Fast and easy concrete repair with vapour abrasive blasting technology
Mondi Syktyvkar is a division of the Mondi Group, a leading manufacturer of office and packaging paper. Mondi Syktyvkar specialises in office, offset and newsprint paper, containerboard, liquid packaging containerboard grades and market pump for the Russian market.
For a part of the process, Mondi Syktyvkar has a water treatment plant, which requires regular renovation to remain in functional conditions.
As one of the most experienced contractors in the area, LLC "Vyatkastroyservis" was chosen to refurbish the concrete water tanks at Mondi Syktyvkar. The company is well-known since 1996 by performing reconstruction jobs, construction of industrial buildings, warehouses, public buildings and special constructions; laying of engineering networks and communications, reconstruction of roofs and facades, corrosion protection jobs.
 
Compact and portable vapour abrasive blaster
As the main requirement of Mondi was to reduce the dust level during blasting the concrete tank surfaces at the water treatment plant, Vyatkastroyservis went looking for dust-free blasting technology. Local Graco distributor Premium-Class proposed the EcoQuip 2 EQm with vapour abrasive blasting technology to complete this job as it is a compact and portable unit that doesn't require a huge air compressor. The primary reason that persuaded the contractor to buy the EcoQuip was the possibility to combine different types of jobs at a construction site by significantly reducing the level of dust.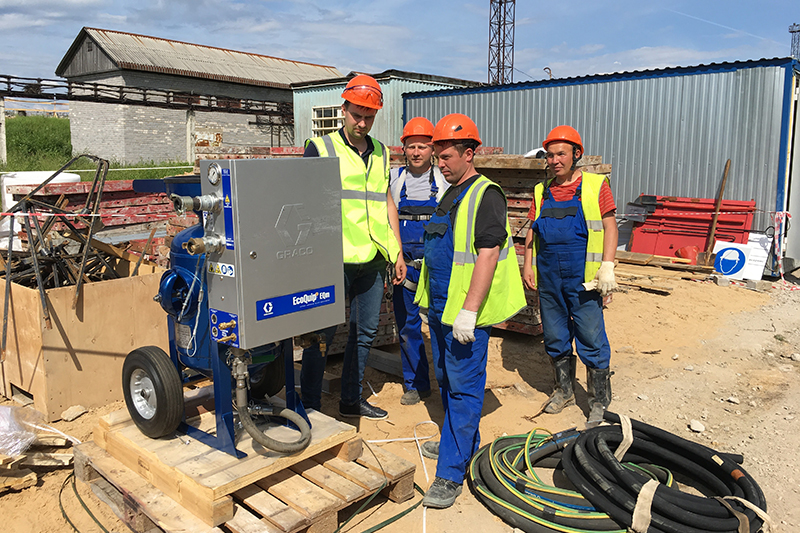 FINISHING THE JOB FAST WITH MINIMISED DUST
The EcoQuip allowed Vyatkastroyservis to finish the concrete repair job fast, easy, with minimised dust and reduced water waste. Different groups of technicians were able to work together on the job site and this allowed them to finish the job quickly and on time. An additional advantage for Vyatkastroyservis was the low abrasive consumption and reduced water volume. Moreover, Vyatkastroyservis was satisfied with the professional on-site support they got from Premium Class.


MORE INFORMATION
For more information about vapour abrasive blasting solutions or Graco's EcoQuip, fill out the form below.