Modified Amine Epoxy for Chemical Tanks, applied with XM plural component sprayer
Atlas Process Equipment, a division of the Al Shirawi Equipment LLC group was established in 1980 in Dubai, the United Arab emirates.
Atlas manufactures process road tankers, cement bulk carriers, semi tipper trailers, cesspit emptier, transit mixers, water tankers, dump trucks, semi-trailers, fuel tankers and refuse compactors.
The range of process equipment road tankers produced by Atlas required a chemical lining to handle the aggressive chemicals which will be transported. A two-component 100% volume solid modified Amine Epoxy coating system from Tnemec had to be applied.
The challenge with this application was the 60 second purge time, exact paint mix ratio requirement and minimising on paint wastage. What made this application even more challenging were the ambient temperatures in The UAE, which varies from 35°C to 45°C – which could adversely affect the mixing ratio.



Introducing a plural-component sytem
Tnemex Bridgeport Glass Armor 500 / 90 have previously been applied with Graco's Xtreme Mix. This was an ideal opportunity for Graco to introduce the XM70 plural-component proportioning system to Tnemec.
The XM70 was evaluated and tested by Tnemec, where Graco distributor Airblast Middle East L.L.C. commissioned and supplied the XM70 to Atlas.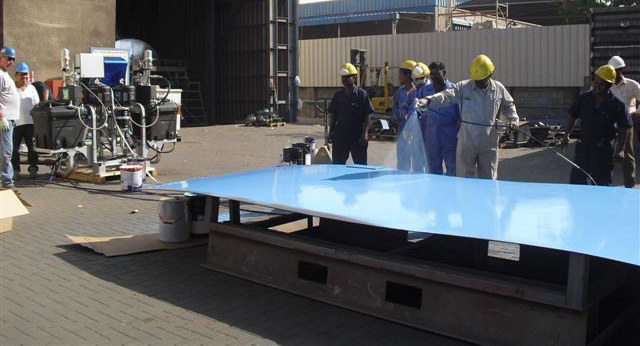 Improved efficiency
Atlas found the following features of the XM70 beneficial for their organisation:
Accurate and affordable plural-component system.
Mix ratio ranging from 1:1 to 10:1 (in 0.1 increments) allows them to apply a wider variety of coatings.
Semi-dynamic dosing allows for improved mixing of 100% volume solid materials.
Easy to use and understand user control interface for their existing operators.
USB data downloading useful to keep a record of historical spray data.
On-going production and everyday use of the XM70 by Atlas, allows them to enjoy further benefits in solvent savings.


MORE INFORMATION
For more information about spraying steel structures and pipelines or Graco's XM plural-component sprayers, fill out the form below.