Regulating blasting power smoothly with a dust-free result
UPP Budo-Mat is a company with 14 years' experience in metal and concrete constructions.
UPP Budo-Mat's activities include reinforced concrete structures, masonry structures, light housing installations, elevation renovations, steel structure repairs, design and painting, blasting, protective coating jobs and roofing.
 
Challenging renovation
They were hired by Tauron, a Polish company responsible for heat system supply in Tychy, to renovate the outside wall of their boiler room. This equals a job size of 10.000 square meters.
A layer of zinc and an organic topcoat protected the wall against corrosion. Over time, the organic coat became loose, so required renovation. As zinc is a good protective coating material, the key part of the renovation was to only remove the inconsistent top coat.
Two criteria were important for Tauron: to carry out the job with a clean and dust-free result, and to blast the surface partially in layers.
An entire new protective coating system was demanded to remove the zinc layer, with a thickness of 30 to 50 microns, which resulted in higher renovation costs. The system needed not only to deliver a dust-free result but also to let the power plant run at full speed.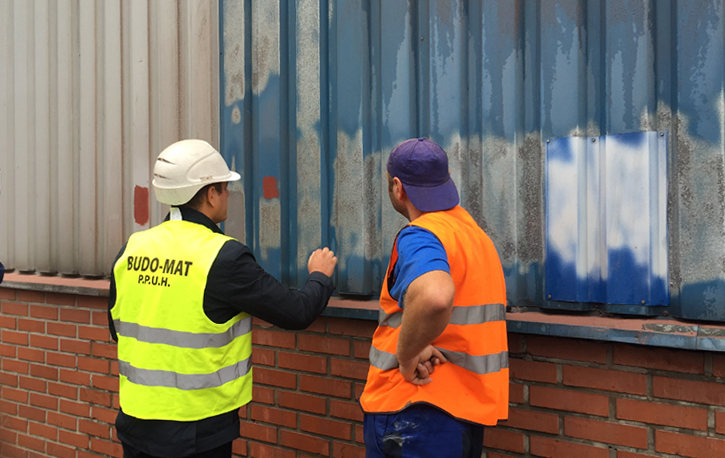 MEETING ALL JOB REQUIREMENTS
In their search for a machine that fits Tauron's needs, Budo-Mat contacted Graco distributor Kumibex as they had already worked together on previous projects. Budo-Mat purchased the EcoQuip EQ100 especially for this project after Kumibex carried out a demo to prove that it was the right machine for this kind of project.
The unit can handle all job requirements and Budo-Mat was able to remove the old topcoat while keeping the zinc layer intact. Budo-Mat was able to regulate blasting power smoothly and to see how deeply they were blasting. At the same time, they enabled the power plant to run normally, without a huge amount of dust around.


A CLEANER, EASIER PATH TO PROFITABLE RESULTS
By using EcoQuip, the contractor was able to only remove the topcoat, leaving the zinc coat undamaged. This job could not have been done using traditional blasting.
Tauron saved money on the renovation since only part of the wall was renovated. Moreover, during the renovations, the power plant was able to operate at a normal speed.


MORE INFORMATION
For more information about Graco's abrasive blasting solutions, fill out the form below.