Saving time and material when spraying big valves for the oil refinery industry
RI-ME Sabbiatura & Verniciatura was contracted to coat big steel valves for the oil industry. Due to the intense corrosion this industry faces, a 100% solids material has been selected for this job.
Ri-Me Sabbiatura & Verniciatura needed an easy-to-use machine with fast set-up and clean-up times in order to generate a quick return of investment, providing overall high-quality results.
The selected fast-curing material, 3M Scotchkote Urethane Coating 352 HT, doesn't need a primer, contributing to saving time and money in the coating application. Due to its fast curing property at 60°C, this material needed a specific configuration, with a proportioner able to keep the right mix ratio required, different heated zones, a remote mix manifold, a recirculation on A-side and a customised feeding system from the two drums. 


XP70 for handling fast curing material
The right configuration was found by the Graco distributor Verve. A Graco XP70 mechanical proportioner has been selected, at 220 bar dynamic fluid pressure, with only one Viscon heater on the A-side and a specific water jacked heated hoses system up to the mix manifold.
The feeding system has been configured with a piston pump on drum A and a gravity system on drum B inside the hopper. The mixing system of the Graco XP70 is the right one for handling fast curing material at the required temperatures.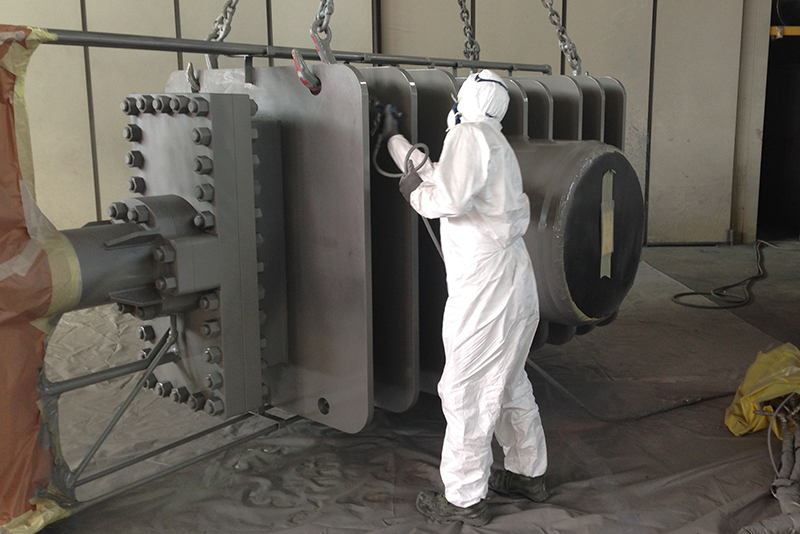 SAVES TIME, PRE-MIXED COATING & SOLVENT
The specific application of this coating, with 650/750µm thickness, has been realised with a significant time saving  (30-40% less compared to an old proportioner), a strong saving of pre-mixed coating  (25%) and an impressive quantity of solvent saved (50%). As a result, Ri-Me will enjoy a return on investment of less than 18 months.


MORE INFORMATION
For more information about spraying steel structures and pipelines or Graco's XP plural-component sprayers, fill out the form below.