Successfully refurbishing challenging surfaces
A Swiss contractor with over 20 years' experience in surface technology was looking for a clean and green solution to refurbish a pedestrian tunnel.
Due to their unique know-how, they are specialists in renovating concrete and natural and artificial stone, and they also offer tailor-made solutions for restoring plastic, wood, metal and glass surfaces. The contractor's processes use special saturation nanotechnology which is environmentally-friendly and does not destroy surfaces.


Removing graffiti and gum
A pedestrian tunnel was in need of refurbishment: the concrete floor outside was covered with moss and algae, causing people to slip; the walls inside were covered with graffiti and the floor was covered with gum. The challenge was to clean all the surfaces without damaging the concrete and to keep costs as low as possible.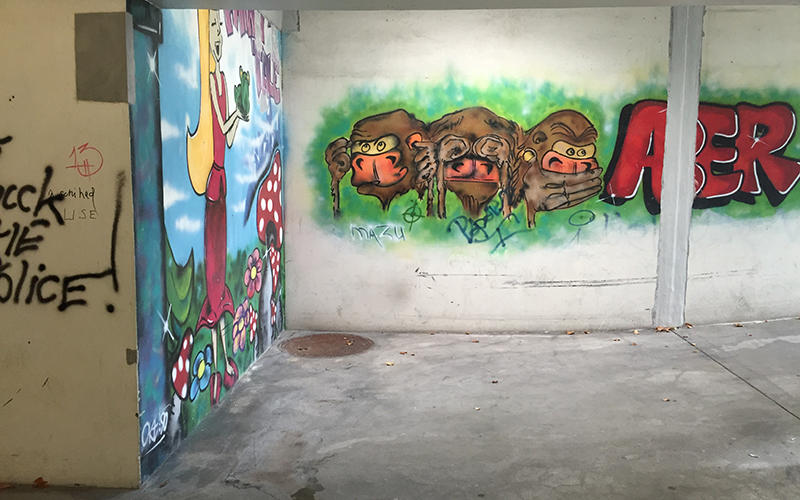 SAVING COSTS AND MATERIAL
For this job, local Graco distributor Contec Schleiftechnik GmbH recommended Graco EcoQuip vapour abrasive blasting equipment. EcoQuip's technology produces blasting that is as powerful as dry blasting but requires only a fraction of the blast medium and also a fraction of the time to clean it up. This system enabled the contractor to save material , labour and disposal costs. The cleaning was mild and there was limited dust, all of which produced a cleaner result. The contractor used crushed glass and garnet as abrasive, depending on the nature of the surface. EcoQuip carefully removed all stains and graffiti on the walls and floors.


SURFACE PROTECTION
After that, the walls, floors and ceiling were painted white with special stain-resistant paint. Special surface protection from the contractor itself was applied over the paint, and the concrete floors were coated with waterproof surface protection.



The contractor is very pleased with the result and, since this project, has been working with EcoQuip vapour abrasive blasting in other challenging surface restoration projects. According to their consultant, "The EcoQuip has high ground coverage, gentle cleaning capabilities, and restores many surfaces with perfect results".


MORE INFORMATION
For more information about surface preparation solutions or EcoQuip, fill out the form below.