What you need to know about airport runway markings
We tell you everything there is to know about airport pavement marking and how to apply them
MOST AIRPORTS AROUND THE WORLD USE THE SAME LANGUAGE OF LINES AND PATTERNS FOR RUNWAY MARKINGS

Airports use their own standards and guidelines for runway markings. From designated areas for airplanes to pedestrian walkways, all airport runways markings contribute to the safety of crew and passengers and the efficiency of traffic flow. We tell you everything there is to know about airport pavement marking and how to apply them.
 
Lines and patterns for airport runway marking
Different lines and symbols are used for the marking of runways. The main markings are listed below:
Blast pads: also known as overrun areas, are often constructed at the very beginning of runways. They are designed to prevent the jet blast produced by departing planes from eroding the ground and damaging the runway. You will find overrun areas also at the end of runways where they are used as emergency space to slowly stop aircrafts when needed. Blast pads are often not as strong as the rest of the runway pavement and are marked with yellow chevrons.
Threshold: A bit further on the runway you will find the threshold, marked by a number of long and thin, white bars. The number of bars in the threshold indicate the width of the runway.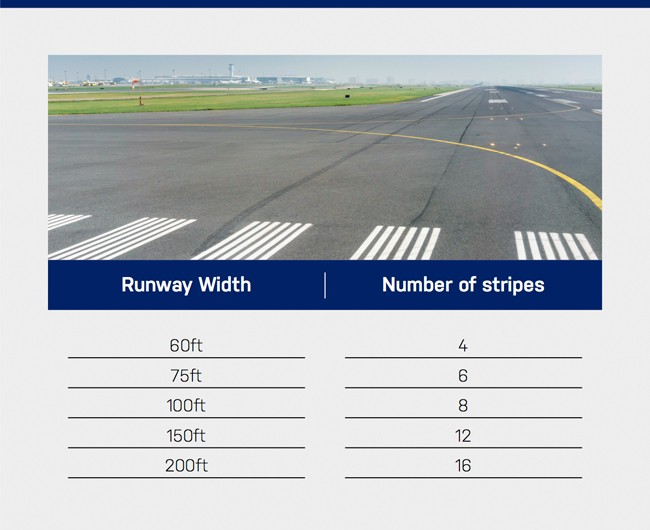 Numbers or letters for the compass heading of runways: Close to the threshold area on the runway you will see a combination of a letter and a one- or two-digit number, used to inform pilots about the position and direction of the runway. The letter indicates whether it is the right (R), left (L) or centre (C) runway. When adding a '0' to the number, you will get the approximate compass heading of the runway. For example runway 12 is at a 120 degree heading. The design, width and height of these letters and numbers are specifically defined for maximum readability from out of a plane.
Landing markings: After the numbers and letters, the runway is marked with six short parallel lines and a bit further you will find two large bars. These are the landing marks where the pilot aims for during landing. 
 
Which paint to use for airport pavement marking?
Runway markings attain high visibility by using high solids paints. "Airport pavement markings are required to have a thin coating so if the markings would delaminate, the risk to the jet engines is limited", says Bert Spencer, General Manager of Meon. "The best thin coatings are typically epoxy or acrylic based materials. Most common are 1-component paints, but if greater performance is required 2-component paint products are recommended." Low solvent content and innovative packaging designs are now available to minimize environmental impact.
 
Which type of line striper is recommended for runway marking?
For the marking of airport runways airless spray technology is the recommend pump system to acquire the best results and an efficient application. An engine-propelled line striper is critical for larger projects to reduce fatigue and increase comfort. Systems with pressurized bead dispensers are needed for the application of retroreflective markings.
Bert Spencer, General Manager Meon: "Further advancements of machines with automatic line control, the ability to spray two colours and lines of more than 1 meter wide, make the Graco products our favourite range of machines for airport markings."