The fast and simple way to cut spraying downtime
Graco launches its new Fusion PC (ProConnect) gun with a long-lasting, all-in-one disposable cartridge to significantly reduce downtime.
Frustrated at having to spend an hour or more cleaning and changing the components of an air purge spray gun before you can continue with the job? Annoyed that during this downtime you're seeing your profit go down the drain?
These are exactly the problems that Graco has solved with its new Fusion PC air purge gun. It cuts downtime from 60 or even 90 minutes to only five! That's a huge increase in profitability. Thanks to an innovative new gun design, all you need do is remove the old cartridge and install a new one. Within a few minutes, you're back on the job!
 
What's the Fusion PC?
Fusion PC, or Fusion ProConnect to give its full title, looks almost exactly like the Graco Fusion Air Purge Gun, and it sprays with the same high quality too. The key difference is its all-new disposable cartridge that houses many of the parts you have to rebuild piece-by-piece today. Thanks to this all-in-one cartridge, the speed of removal and replacement means that the Fusion PC is the fastest gun in the industry to service.
The Fusion PC gun body incorporates some of the same components as the previous Fusion AP: handle, air piston, safety lock, air connection, trigger mechanism, fluid manifold, A&B filters and check valves, and air cap. The new components are the cartridge, the retaining ring and fluid housing. The cartridges are 100% Graco-built and factory tested to ensure a factory-quality rebuild in the field every time.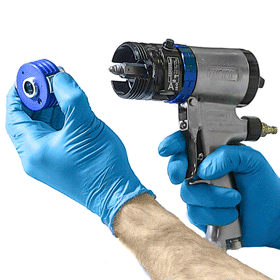 Added value: crossover containment and Chrome-X coating
The Fusion PC gun comes with other new features that make it stand out compared to other air purge guns. Check valves have been added to optimize crossover containment. The benefit of these is that if a crossover were to occur while spraying with this gun, it stays contained in the cartridge and doesn't travel to other parts of the system. Moreover, the mix chamber is a new, slightly different design and has a Chrome-X coating, Graco's longest lasting wear coating. Another new feature when compared with the Fusion AP is the mix chamber that can now be replaced without removing the full fluid section.
 
Reduced inventory
The Fusion PC cartridge combines 15 different parts into just one part, saving you space as well as cost. As o-rings, side seals and the fluid section are all incorporated into a single cartridge, spare parts inventory is cut to an absolute minimum. Note that the cartridge is a consumable. Once it has reached the end of its long lifetime, it becomes disposable. Before disposing the cartridge, verify that it really has failed or blocked. 
How long does a cartridge last?
The ProConnect cartridge is designed to be replaced, but as with parts of any plural component spray gun, there is no easy way to predict how long it will last before needing to be replaced. Factors that affect how long a cartridge will last include: materials being sprayed, fillers in the materials, total number of triggers, whether it's greased or not, how long the gun sits between uses, ambient temperature and moisture levels, to name a few.
Since its launch in the North American market, contractors have found that the cartridge life for spraying polyurethane foam is between 20 and 30 sets of material per cartridge. For polyurea it was between seven and 12 sets of material (at least 125 truck beds). With proper use and maintenance, the ProConnect cartridge has been designed to be worth the investment.
The Fusion PC is designed to make spraying PU foam or polyurea easier. It enables you to make the perfect rebuild every time, in seconds. This maximizes your uptime, allowing you to get jobs done quicker, and ultimately improve spraying job profitability. You get a factory quality rebuild every time. Changing the Fusion PC is easy, fast and simple. And fewer parts means increased reliability, reduced maintenance, and less inventory. What's more, retrofits for the Fusion AP are available. The fluid head can be retrofit to an existing Fusion manifold and handle, thus maximizing your existing investment. In short, thanks to the Fusion PC, industrial sprayers can focus on growing their business, improving spray technique, developing application knowledge – and not on repairing spray guns!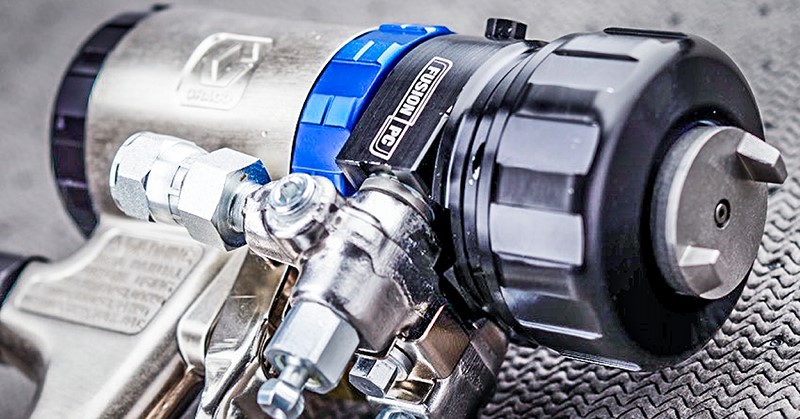 Putting it to the test

One of the first companies to put the Fusion PC through the rigors of an actual spray job was Installed Building Solutions of Minneapolis-Saint Paul, Minnesota. They used it to spray polyurethane foam over a ceiling area of 5000 square feet / 464 square meters. "It took me about three weeks and it was all with the same Fusion PC cartridge," says Chad Schmitz, Sprayer. "The job was completed easily and quickly because I didn't have to keep stopping to clean all the parts."
Speed of changeover and reduced inventory were what impressed David Joyce, Mechanic the most. "The Fusion PC ProConnect has fewer parts, easy accessibility to change the head, the mix chamber and the cartridge out, and you're back up and running within five minutes instead of an hour or an hour and a half. The inventory of parts is definitely less. We just need extra cartridge heads on hand and extra mix chambers."
And what about cartridge lifetime? "We ran about 30 sets of material through those cartridges before they had to be swopped over," explains Joyce. Schmitz was equally impressed: "That's a lot of material to be going through one gun. To have it last that long was pretty impressive."
And the overall impression? Both agree: "The Fusion PC eliminates downtime; it's a gamechanger!"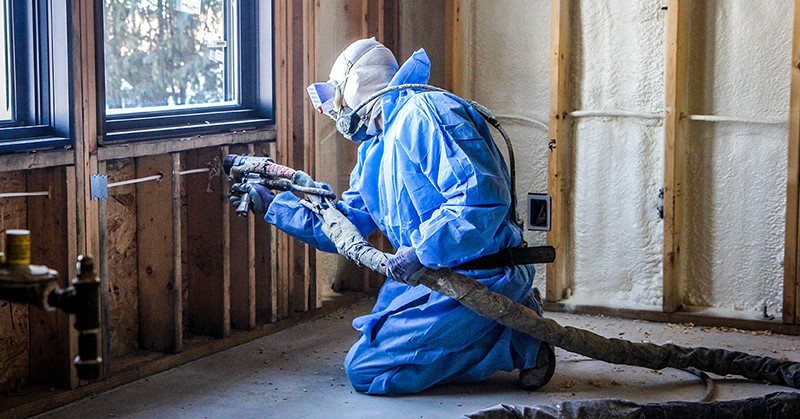 For more information about Graco's insulation equipment, fill out the contact form below.
Contact a blasting expert