Graco helps Isofloor taking polyurethane insulation to another level
Belgian company Isofloor has been using Graco Reactors since 2007 to spray polyurethane insulation foam on all types of floors.
 
Isofloor is a Belgian insulation company that since 2007 has specialized in spraying polyurethane insulation, for customers ranging from private individuals to large building contractors. Isofloor prides itself on its considerable experience and expertise, enabling it to provide fast and competent service in the installation of polyurethane insulation in homes or buildings, at high quality and at extremely competitive prices. Although specializing in spraying floor insulation, customers also call on them for roof, basement and attic floor insulation.
 
Quality certified
Isofloor is ATG certified by the Belgian Union for Technical Approval (UBAtc) in the construction field. This certification indicates that Isofloor's manufactured and supplied products or system components comply with the provisions described in the ATG approval text. "In short, ATG certification shows that Isofloor stands for superior finishing while respecting all safety standards," adds Bart De Meersman, COO at Isofloor bvba. "The certification is really the icing on the cake: for years we have focused on providing fast execution of high-quality polyurethane insulation, with good job follow-up and after-service."
Currently, Isofloor has a workforce of 38, divided between its two locations in Ternat and Opglabbeek and its 14 insulation teams working throughout Belgium. The company carries out around three thousand jobs per year, and to date has insulated three million square meters.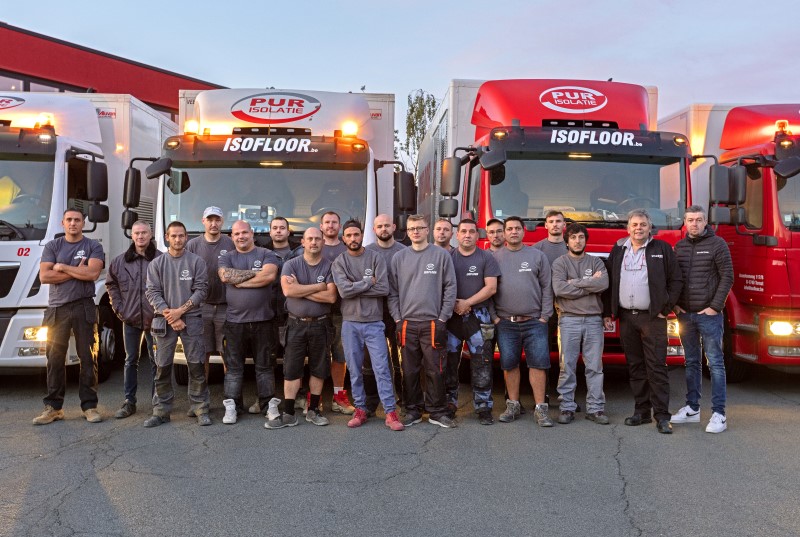 Preparation is key

"A high-quality job always starts with high-quality preparation," says De Meersman. "You simply cannot and must not take any shortcuts." Before Isofloor come to spray the insulation, the home or the building complex must already be made completely wind-tight to ensure the best environmental conditions for spraying. The surface is then checked that it is dry and dust-free, to ensure good adhesion of the product. If not, it is swept and vacuumed. Doors and windows are carefully masked with plastic film to prevent the mist that is released during spraying from sticking to these surfaces. Pipes and cables always remain visible in the cured foam, but can be topped off – for example, in the case of floor heating – with a sanding machine to obtain a surface that is as uniform as possible.
The advantages of polyurethane

Isofloor's favored supplier of polyurethane insulation foam is Dutch company Nestaan. Isofloor generally gets through about 220 tons of their material per month, spraying thicknesses ranging from 3 cm to 20 cm, depending on the structure, the surface area and the energy performance (EPB) requirement.
Sprayed polyurethane provides two benefits at the same time. The floor is perfectly insulated, and the pipes and cables are concealed in the build-up layer. Moreover, thanks to local spraying, there is no chance of cold bridges, while along with a perfectly adhering monolithic mass, the joints at the walls are seamless. Studies show that heat losses can be twice as high with segmented insulation, such as insulation panels.
"Sprayed polyurethane is a guaranteed profitable investment," claims De Meersman. "It is not only effective against potential heat losses, but also considerably improves thermal comfort. It can lead to significant savings on your energy bill; the financial gain is many times the initial investment."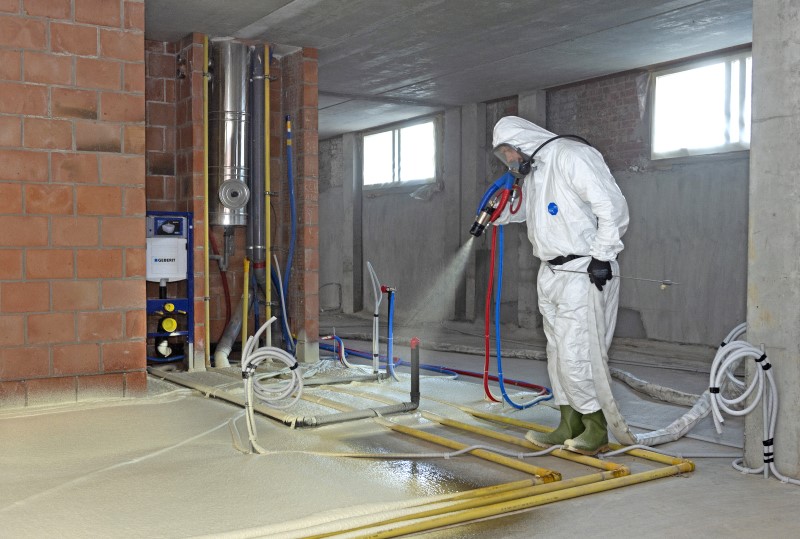 Working with Graco since 2007

Isofloor uses Graco hydraulic spray foam equipment; currently seven H-40 Reactors and seven H-40/2 Elite Reactors. "We started using Graco equipment right from the start of our operations in 2007 and have never regretted the decision," says De Meersman. "The H-40 Reactor is the most powerful machine of its type. It's easy to use, reliable and low maintenance. We have considered electric reactors at times, but in terms of power, simplicity and reliability, you can't beat a Graco hydraulic reactor."
Each isolation team has its own truck, which means that 14 trucks are equipped with either an H-40 or H-40/2 Elite Reactor. The design and installation of the trucks is completely self-designed by Isofloor Managing Director Jos Meert.
The Graco H-40 Reactor is designed for medium- to high-output foam applications and roofing projects, applying up to 23.6 kg (52 lb) per minute. It is excellent at maintaining the set pressures and temperatures to ensure a perfect end product.
Isofloor's insulation teams use Mattei type ERC505H compressors. The reactors are equipped with a 70/70 mixing chamber, and spraying takes place at a temperature of about 40˚C and a machine pressure of 90 bar.
Graco Fusion Air spray guns are used, attached to the original Graco 90-meter hoses. "We're happy with the Graco spray guns too. They are easy to handle and use. Most importantly, they are easy to clean and maintain, which is important as with the amount of spraying we do each day, mixing chambers and filters that are quick and easy to dismantle and clean are vital."
Another important feature of the Graco H-40 Reactors is the Advanced Display Module (ADM), which is the standard interface that provides the ability to track, monitor and save project information, as well as download data onto a USB drive for further analysis. "We print out the volume accuracy charts and provide them to the customer to confirm that the right quantity of material has been sprayed," says De Meersman.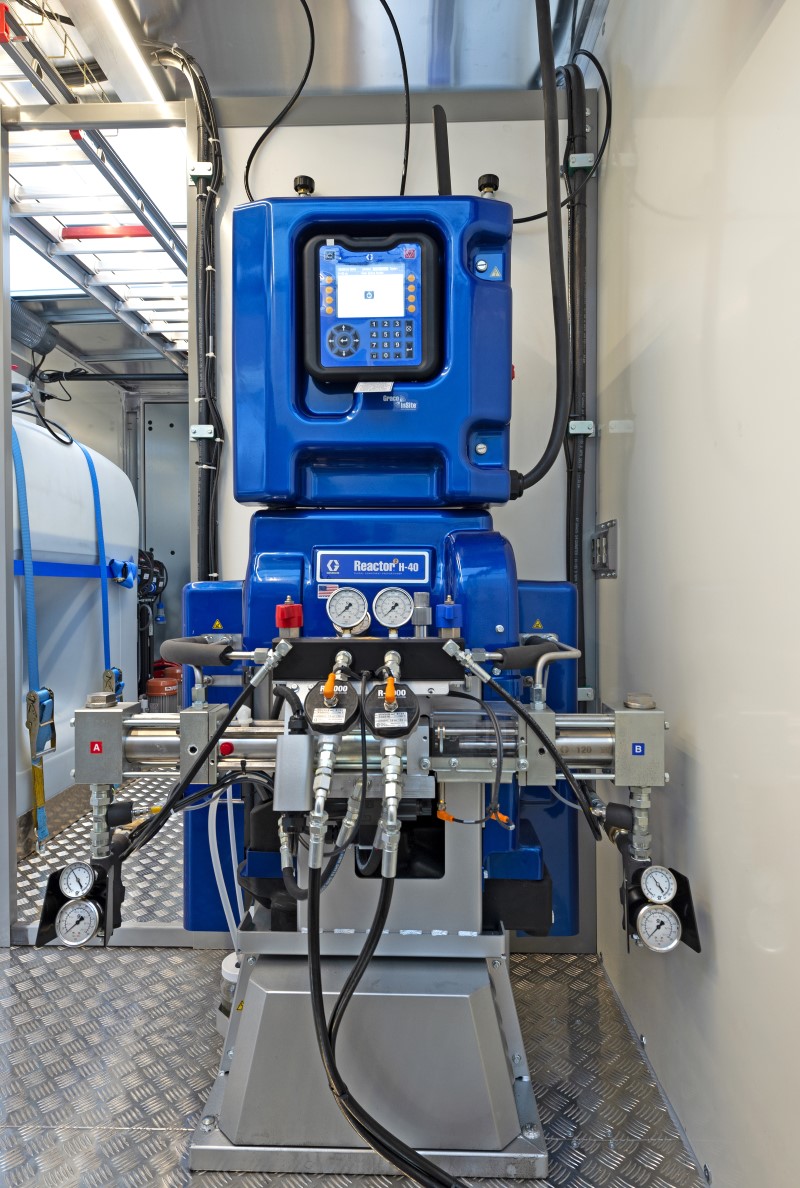 Saving time with the Graco Reactor App

For the past few months, the Isofloor insulation teams have all been using the Graco Reactor App, which gives operators the freedom to make real-time adjustments directly from their smartphone. Operators can now turn the machine on or off, turn pumps on or off, and adjust pump settings, such temperatures and pressure – all without having to return to the machine.
"The Reactor App took a little while to get used to," adds De Meersman with a smile. "An operator would start to walk back to the Reactor to make an adjustment – and then realize that all he had to do was take his smartphone out of his pocket! It really saves us a lot of wasted time on-site."
For more information on Graco's polyurethane spray equipment, fill out the contact form below.