Renewing the chemical milling process to save time and material
Aernnova is a leading aerostructures company, specialised in the design and manufacturing of aerostructures and components such as empennages, wings and fuselage sections.
The company is the creator of Fibertecnic and in 1986 it signed its first manufacturing contract with CASA (known today as Airbus Group).
Aernnova Engineering provides high value-added product and manufacturing engineering services to the leading OEMs and Tier 1 companies. Currently, they have more than 1.000 employees in five different locations: Spain, UK, USA, Brazil and Romania.
 
Special coating for the aerospace industry
Aernnova Engineering uses BASF Coatings' masking material to spray aircraft body parts. This material is specially designed to protect aerospace aluminium during the chemical milling process. Masking coatings for chemical milling have been in use for 30 years and most of them contain highly volatile and environmentally critical solvents.
Low-flashpoint solvents with critical toxicity are a concern for workplace safety, so BASF Coatings launched RELEST Air chemical maskant coating in order to offer the market a sustainable alternative. It is solvent-free, dries quickly, and provides flexibility without adding much weight to the surface.


UPGRADING THE PROCESS
Aernnova Engineering used to immerse aircraft parts in a bath to coat both sides and then wait until the masking material was completely dry. As this was time-consuming, they looked for a solution to help them gain time, as well as keeping thickness under control.
Graco distributor Jomar proposed the Graco Reactor H-XP2 in combination with the Fusion Mechanical-Purge (MP) gun with static mixer upfront. The unit and gun enable spraying the BASF coating with a mix ratio of 2,5 :1, with perfect mixing control.


SAVING MATERIAL AND IMPROVING PRODUCTIVITY
Reactor H-XP2 has completely changed the process. Aernnova Engineering now only use the material they actually need, in contrast to the previous process which created a lot of waste. What is more, Reactor H-XP2 improves the fine surface finish, as it is now possible to choose which microns to have on the aircraft, something impossible with the previous method.
Thanks to the USB port in the ADM display, Aernova Engineering can now download a full application report containing data such as temperature and pressure. The ADM display can also monitor thickness and quality. The current process is much faster because the coating is dry within seconds, which greatly improves productivity.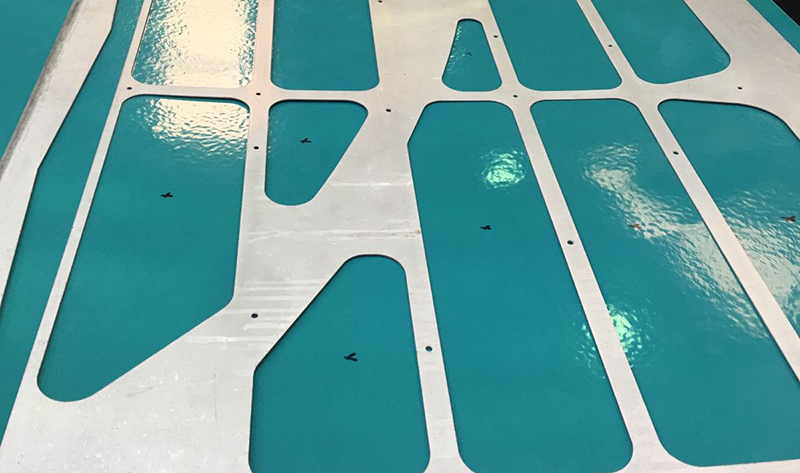 MORE INFORMATION
For more information about polyurea applications or Graco's Reactor, fill out the form below.