Roof renovation of multi-purpose complex
The roof of the Polish multipurpose "Spodek" arena, was renovated and covered with a layer of polyurea to make it waterproof.
"Spodek" is one of the most popular and largest multipurpose arenas in Katowice, Poland. Unofficially, Spodek is used as a logo for the city of Katowice. The characteristic image of the building can be seen on postcards and posters.
The hall has the shape of a disk, giving it an original appearance. In the past, big sporting events took place in the arena, as well as performances by pop stars such as: Metallica, U2, Eric Clapton, Iron Maiden, Sting, Genesis, Boney M and many more.
 
23.5 tons of polyurea over 11,000 m²
Spodek's main hall was in need of renovation. The main objective was to eliminate discs containing asbestos, which included the replacement of the roof sheathing. In the initial phase of the construction, several layers of roofing felt and polystyrene plates were removed.
Next panels were removed consisting of polystyrene coated asbestos linings on both sides. After the removal of the above, new sandwich panels containing polyurethane were installed to act as a thermal insulation. The outer layer is a sheet metal panel, coated with polyester paint.
Finally everything was covered by a polyurea membrane. This last layer provides the ultimate finish for waterproofing. Due to the nature of the roof structure, the applied polyurea had to reach a 600% elongation. In total, 23.5 tons of polyurea was sprayed on a 11.000m² roof surface.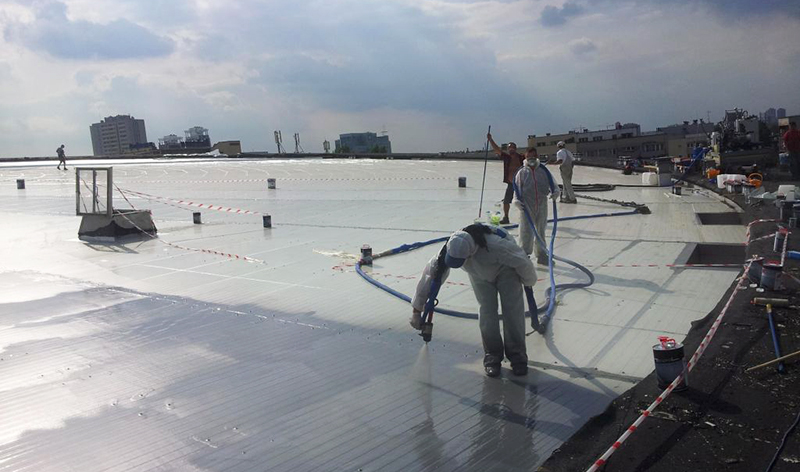 MORE THAN 40% SAVINGS ON FUEL
The contractor was a consortium of Olmark Myslowice and Transcom Sp. z o.o. from Katowice. The polyurea on the roof surface was sprayed with a Graco Integrated Reactor E-XP2i equipped with a Graco Fusion AP gun and 4242 nozzle size.
This spray job highlighted several advantages by using the integrated Reactor: no power source was needed thanks to the generator on the Reactor; the fuel consumption was low, thanks to the heating system management; 4-4.5 liters an hour were used for an application in October, instead of the usual 8 liters an hour; the heating management system saved from 40 to 50% on fuel.
Furthermore, it was possible to control the spray process via the main control panel and the additional remote panel used by the gun operator. Finally, the complete process was registered on a USB stick, which allows you to keep track of all your data reporting.


MORE INFORMATION
For more information about spraying polyurea or Graco's Reactor, fill out the form below.