Revolutionary under water cable protection for offshore wind turbines
Elastothane Ltd, formerly known as Chemline UK, has decades of experience offering polyurea, polyurethane and hybrid coatings in Europe to a broad range of industries.
Now, all Elastothane's products are manufactured in Britain and they supply these to OEM's and independent applicators across Europe and beyond.


Developing a durable coating for offshore wind farms
Elastothane was selected to deliver a protective coating for sub-sea cable protection systems for offshore wind farms in the renewable energy industry. They needed to provide a coating that would protect against impact, abrasion and corrosion as well as reducing internal friction to aid cable installation offshore.
By working closely with their OEM, Elastothane was able to produce a pioneering cable protection system. Once installed, the cable protection system greatly increased the lifetime of any cable and reduced the need for on-going maintenance and inspection. 
With a requirement for a minimum working life of 30 years at an average depth of 100m, the polyurea coating was successfully subjected to rigorous tests for impact, abrasion, corrosion, permeability, chemical resistance, UV stability, tensile strength an anti-fouling before production was commenced.
When all approval and certification processes were completed, the green light was given to start producing coating components with Elastothane Polyurea.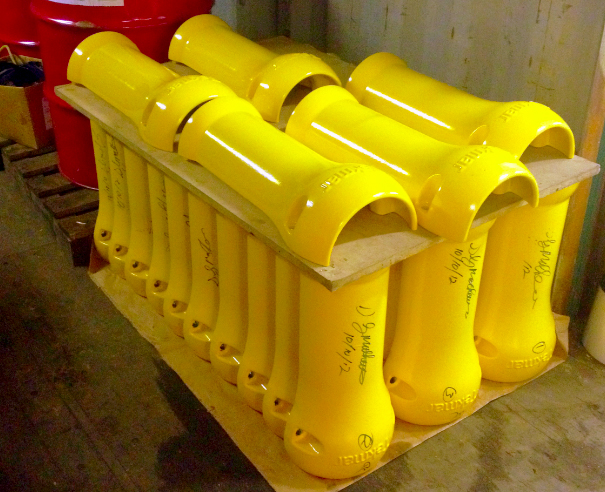 the ideal equipment for polyurea
In conjunction with Elastothane's approved and recommend applicator and local Graco distributor GlasCraft UK, the Graco Reactor H-XP2 was the equipment perfectly suited to apply the coating to the initial batch of cable systems. Graco's hydraulic Reactor H-XP2 is a mid-production system, ideal for in-plant OEM's or applicators that spray at high volumes as it applies up to 5.7 litres (1.5 gal) per minute.
After two years, the success and increased demand of the application resulted in drastically increased production. To meet the 24/7 production requirement, a second machine was purchased. This time they opted for the Graco Reactor H-XP3, a high-production system which applies up to 10.6 litres (2.8 gal) per minute.
Due to continued growth and demand for the application the applicator purchase another Graco Reactor H-XP3 one year later. Custom design spray rooms, packaging plant and additional land for future capacity have also been forecasted as volumes are set to increase yet again.


MORE INFORMATION

For more information about polyurea coatings or Graco Reactor, fill out the form below.