Scoring with graphic sports floor markings
Discover how the stylish sports floor markings have given a new life to the Sportzone Limburg using Graco LineLazer. Find out more about the different uses of reflective glass beads paint
SPORT FANS WILL BE IN HEAVEN AT THE SPORTZONE LIMBURG SPORTS PARK IN THE DUTCH CITY OF SITTARD.
THEY CAN GET THERE IN STYLE, SINCE THE STREETS WERE RECENTLY PAINTED WITH UNIQUE DECORATIVE LINES
 
Maurer United Architects from Maastricht was inspired by the lines on athletic fi elds. These were translated into black and white 102-centimetre-wide stripes on the streets surrounding the football stadium. The width is based on the centre-to-centre span between the lines at sport stadium running tracks. The interplay of lines creates enormous chessboards, graceful curves and surprising perspectives.
 
LineLazer IV 250SPS and 5900
The lines were applied in October 2014 by the Arnold Maassen Group from Maastricht, in cooperation with the Coateq paint supplier from Haarlem. We asked Frank Offermans, Manager at Arnold Maassen, to explain the method. Frank tells us, "We used the LineLazer IV 250SPS and LineLazer IV 5900 to draw the lines. These are both very compact and dependable machines, ideal for this sort of job."

"The LineLazer had no trouble with the thick paint for the lines around the sports stadium."
Frank Offermans, manager of Arnold Maassen Group
A first for paint in the Netherlands
The paint which was used also turned out to be a first for the Netherlands. "It was a new paint, interspersed with glass beads," explains Frank. "For every square metre we used a kilo of paint, which contains pearls that are twice as refl ective as normal paint. The paint was a bit less smooth than usual, but that was no problem at all for the LineLazers. Honestly, I would recommend these machines to everyone."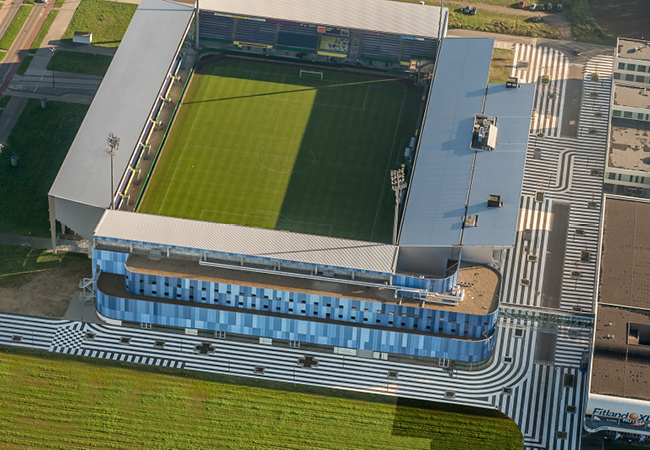 The lines give the Sportzone Limburg sports park extra prestige
The lanes are first sectioned off with tape. The clean lines create unique perspectives.