Twice the production for large blasting jobs
A family-run company, Schavicast was started in 1995, but the experience and the workmanship within the company go back even further.
Schavicast began as a blasting and painting company for fisheries, and have always invested in expanding their range of products and services, as well as machinery. Today, the services they deliver are blasting, painting, quality control and total solutions. In addition to a large number of customers in the fishing and maritime industries, Schavicast provides services to government, industry and offshore customers.
Whenever a vessel needs a new layer of paint, repairing or maintenance (for example removing anti-fouling paint), it moors at a shipyard dock in Stellendam, near Rotterdam (Netherlands).


Dust hazard
The company was looking for new blasting equipment, mainly because the dust during blasting was too big of a burden. Firstly, operators' sight was minimised and they could hardly see how they were blasting. Secondly, there's a marina in front of the shipyard repair dock and they had complaints about dust in their area.


Vapour abrasive blasting as a solution
Local Graco distributor Rasco-Clemco proposed Graco's vapour abrasive blast equipment, EcoQuip, to do the job. EcoQuip provides a performance equivalent to sandblasting but with 92% less dust, thus minimizing the need for PPE, tenting and containment, and decreasing environmental impact. It uses up to 75% less blast media and far less water than wet blasting, and creates little run-off, thus there is no large slurry mess to clean-up and dispose. It's effective in rain and high humidity, and efficiently removes coatings without damaging the sub-surface. The bottom line is that EcoQuip reduces project costs while increasing the speed, efficiency and productivity of blasting.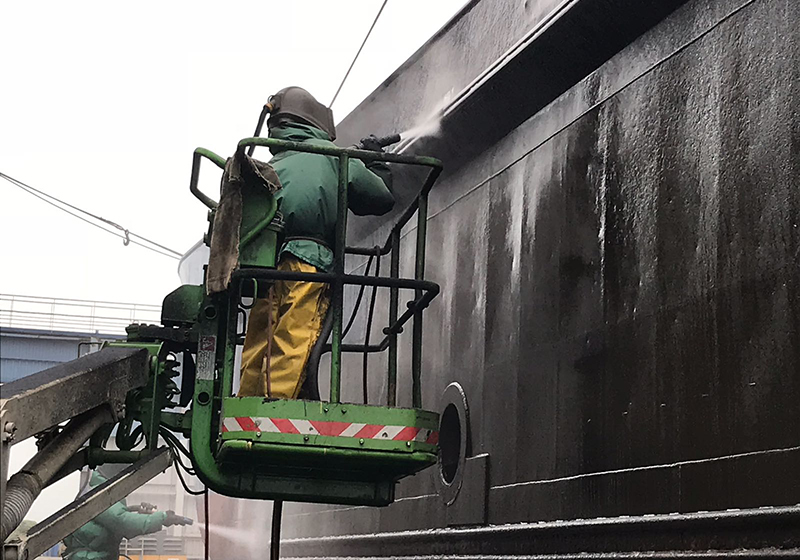 Two EcoQuip Twinline models were chosen to speed up the job. The Twinline unit operates on a single compressor with two nozzles to double the production rate, thereby improving the cost-effectiveness of major jobs. "You no longer have to bring two separate skid units to the job. And now, you can have two operators working off one machine without interruption", says Stephan Rindfleisch, Product Marketing Manager at Graco. Moreover, using two Twinline units reduce the time that a vessel spends in the dock, which saves money and allows for more boats to arrive at the dock. An external water tank was also installed.
The abrasive used is Coppers Slag with a width ranging from 0.5 to 1.2 mm. It's an environmentally friendly iron silicate that generates extremely low dust. "It's a good abrasive to remove primer and topcoat coatings and prepare the substrate for a new application", says Peet Hack, Head of Marine at Schavicast bv.


NOTABLE DUST REDUCTION
Currently, Schavicast is saving more than 50% of abrasive material compared to the traditional dry pot method they previously used. Moreover, the operators are feeling more comfortable due to the dust reduction on the application site and also the pollution in the neighbourhood decreased.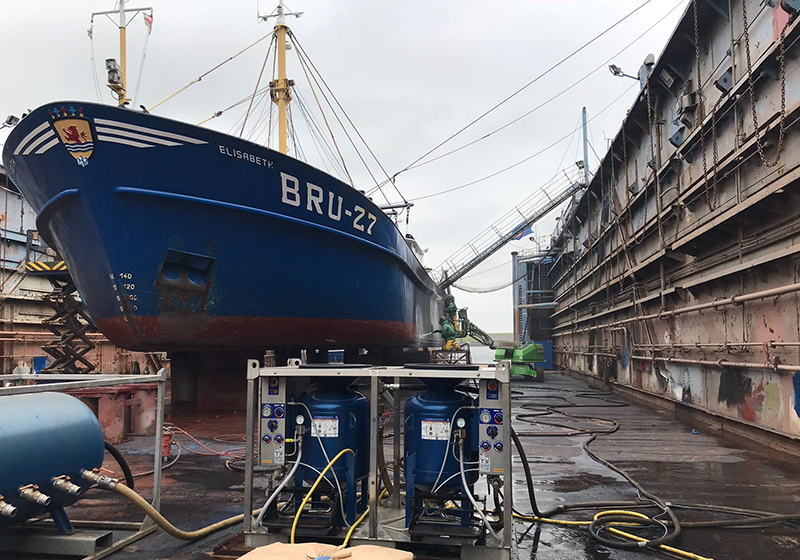 MORE INFORMATION
For more information about Graco's abrasive blasting solutions, fill out the form below.