Jotun PFP applicator chooses XM PFP for industrial and infrastructural projects
Van der Ende is a top specialist in the Netherlands for protecting steel against corrosion. Established in 1929, the third-generation family business is one of the last operating in the sector.
They specialise in industrial and infrastructural projects, ranging from immense storage tanks to complex installations in the process industry and from water defences to bridges for railway and road traffic. The Dutch company was recently certified by Jotun as an applicator of PFP (Passive Fire Protection) for Jotachar material. For the certification, Van der Ende selected Graco's XM PFP sprayer to apply the material.
 
All parameters are monitored
A conclusive test was carried out at Van der Ende (Barendrecht, Netherlands) by Jotun and Graco using Jotachar material with the XM PFP. The test showed no errors and gave excellent demonstration results. Van der Ende monitored all the application parameters (pressure, temperature, A-side, B-side, heated hoses) to ensure that the XM PFP always sprayed on-ratio, which it did! British Petroleum staff were present during the demonstration and were really impressed by the results and how the sprayer measures every single step of the application.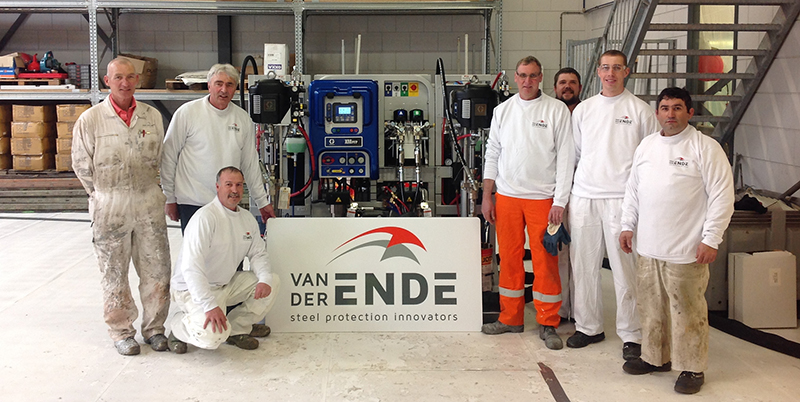 VARIABLE MIX RATIO
Van der Ende has some upcoming passive fire protection projects in Rotterdam. They selected the Graco XM PFP because it is a reliable unit with variable mix ratio and data reporting. It is useful to monitor the material sprayed and to provide information to the end customer. "With the XM PFP, we can quote projects with different PFP materials without changing the sprayer's specifications." Oscar Van der Ende's specialist advice is to "always spray on-ratio to avoid human error in the application".


MORE INFORMATION
For more information about spraying steel structures and pipelines or Graco's XM PFP sprayer, fill out the form below.