Spraying swimming pools with gel coat systems
Since 2001, Franmer is a leading producer of composite swimming pools adapted to the Russian climate.
Today, the company produces 3,500 pools a year and offers a wide range of 56 pool models in 17 colours. They also produce curbstone as well as a broad range of composite pool slides and other accessories.
Over the years, Franmer has mastered and improved most production technologies. Thanks to this, Franmer's production plant is different from other local and foreign swimming pool producers; bringing the company a competitive advantage and helping it secure a leading role in this market segment. 
Franmer recently introduced a new type of coating – Diamond Shine – on the Russian market. This coating won the hearts of customers and is extremely popular nowadays. It provides the option to create new pool colours for customers and thanks to the reflection and refraction of sunlight in micromirror particles, it helps warm the pool water and make the swimming season last longer.
 
3D marble pool coating
Glitter and holographic particles are injected in the gel coat and special granules can also be added. This technology imitates the surface of natural stone and is available as a new line of pool coatings called '3D marble'. New research shows that insulation should be used during the final stages of pool production to make the pool operation more effective and economic. So, a spray application of durable seamless polyurethane foam provides an efficient insulation layer.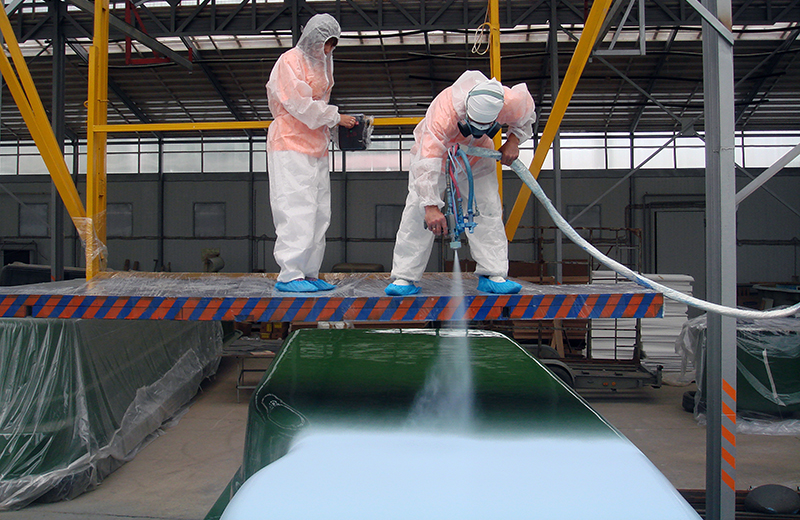 IDEAL DOSING RATIO
Graco FRP units are now used for spraying fibre composites and Graco Reactor E-XP2 and E-10 units are used for foam insulation applications. These units also provide an exact dosing ratio of material and temperature control. "The quality of production not only depends on the quality of raw materials but also on the quality of equipment used for the application," confirmed Franmer's specialists with confidence. "Thanks to the right combination of top quality raw material and equipment, we're able to maintain our leading position on the Russian swimming pool market." 


MORE INFORMATION
For more information about Graco's Reactor and FRP equipment, fill out the form below.