Striping against the clock on the circuit Zolder race-track
Read how the Circuit Zolder could be effectively marked by using the power and speed of Graco LineDriver. Find out how fast and easy a race track can be marked
With 400,000 visitors a year, the Belgian racing circuit in Heusden-Zolder draws in the fans of fast events.
As such, maintenance man Mario Vranken does not have much time to apply new lines in between events. Fortunately, he can call on the help of his LineLazer IV 200HS and LineDriver.
Mario Vranken has been working at Circuit Zolder for several years now. He is responsible for the general maintenance of the buildings and the grounds, which cover 80 hectares. Maintaining the line markings on the track is also one of Mario's tasks.
 
"Depending on the time, budget, weather and the upcoming event, we retrace the lines", Mario explains. "You have to realise that the track is leased as much as possible, and so there is little time to work on it. On average, we retrace the lines two to three times a year."
 
Because there is little time, Mario is very pleased with his Graco striping equipment: "We used to have an old piece of equipment which we had to push and which did not trace the lines so clearly. That is totally different with the LineLazer IV 200HS and the LineDriver. The LineDriver pushes the striping equipment and speeds up the work considerably. Moreover, the lines I spray with the LineLazer are much more accurate and the LineDriver allows me to sit down, which is very handy with all those hills here!"
 
Mario uses his striping machine to refresh even the white outer walls along the track: "The gun of the LineLazer IV 200HS can be disconnected. We just add an extension and spray the walls that way." Multifunctional and easy to use? "Indeed," confirms Mario, "the LineLazer IV 200HS is very simple to use. After a brief training session with Graco product manager Peter Thomassen, we were able to start on the lines for the 24­Hours of Zolder straight away."
 
"The LineLazer IV 200HS and the LineDriver speed up the work considerably."
Mario Vranken, maintenance staff Circuit Zolder
To conclude, Mario reminisces about the World Touring Car Championship three years ago. "What we did then defies belief", he muses. "We re-sprayed every single line, from the track to the paddock. In just one week, we covered an amazing number of miles and sprayed a staggering volume of paint. We would never have succeeded without Graco!"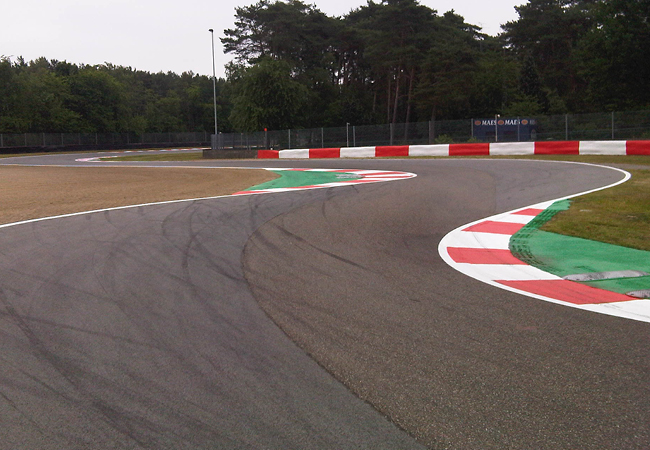 After a clean-up with Graco, the track is ready for the 24 hours of Zolder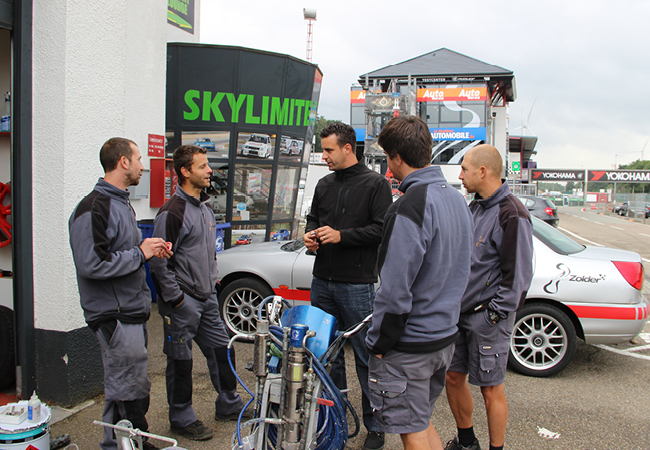 First a brief training session with Graco product manager Peter Thomassen and then to work
 
Scoring with graphic sports floor markings
Discover how the stylish sports floor markings have given a new life to the Sportzone Limburg using Graco LineLazer. Find out more about the different uses of reflective glass beads paint