Free Webinar Series
---
Spray Performance 2
Rotary Bell Atomizers
Friday, October 8 | 10 to 10:45 a.m. CT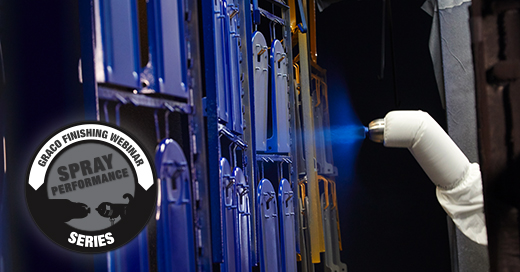 Manufacturers choose rotary bell atomizers when they need to coat products with an ultra-fine finish. Add electrostatics, and you can get the highest transfer efficiency of any automatic applicator.
In 45 minutes or less, we'll address common challenges faced by any automated finishing operation with rotary bell atomizers. Optimizing spray performance could be as easy as adjusting shaping air parameters.
Can't attend at 10 a.m. CT on Friday, Oct. 8? Register anyway, and we'll let you know when the recording is available to watch on-demand.
This is the second in a series of free webinars about optimizing performance in your spray booth or paint line.
Have Questions? Let's Talk.
Call Support
Monday–Friday
7:30 a.m.–5 p.m. Central Time
Email Support
Find a Distributor
For local sales and service support