Piston Pumps
Our sanitary piston pumps are ideal for low to high viscosity food and beverage transfer. From juices and sauces to jams and jellies, transfer a broad range of viscosities with Graco's food grade transfer pumps. To meet your unique food processing needs, we also offer FDA compliant pumps in three lengths: stubby, drum and bin sizes. Each built under the same high-quality standards.
IDEAL FOR LOW TO MEDIUM VISCOSITY FOOD /BEVERAGE TRANSFER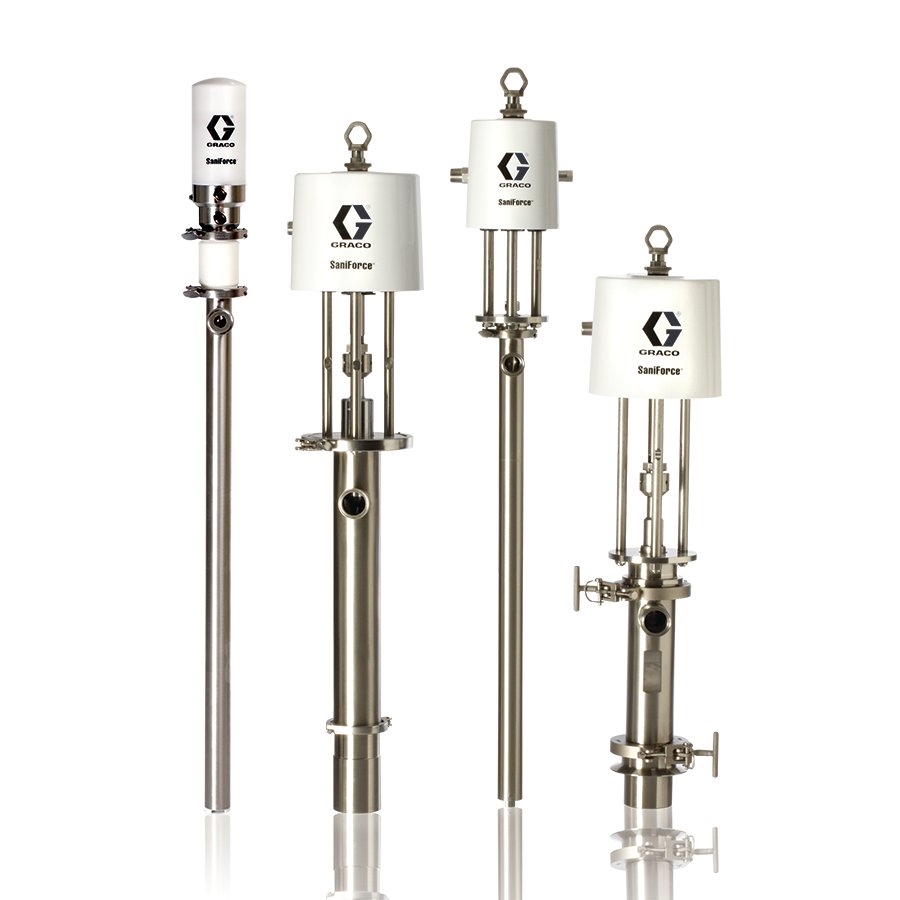 3 SIZE OPTIONS
---
FOOD TRANSFER FLEXIBILITY IN A PORTABLE DESIGN
Everything you need for food transfer flexibility is built into Graco's portable liquid transfer pumps. A quick knockdown design makes for fast and easy cleaning or moving around your plant. Easily remove the FDA-compliant shroud to clean and access the air valve, which also helps reduce downtime. Manufactured with food grade 300 series stainless steel for a long-lasting durability.
POWERFUL PRESSURES
---
MOVE BEVERAGES TO SAUCES
Three Pump Lengths for Application Versatility
We offer our sanitary food pumps in three different lengths to fit multiple container sizes: drum, bin, and stubby lengths. And each features the same high-performance specifications.
Easily Move Difficult Materials
Graco's powerful line of piston pumps move difficult materials when others cannot. Fluid pressures of up to 1,200 psi are ideal for low to medium viscosity materials such as beverages, juices and sauces.
Fast & Easy Cleaning Saves Time
Quick knockdown lowers are made with corrosion resistant stainless steel and feature easy to clean sections, improving overall efficiency.
Filter results
---
Maximum Working Pressure (psi)
---
Filters
Process
---
Try Before You Buy
Try Graco products for FREE before you buy! Select any configuration of the products below. No secret clauses. No hidden charges. Just guaranteed satisfaction. Simply return the equipment if you are not satisfied.
Participating products available for 60 day trial periods. Program only available in the United States and Canada.
Have Questions? Let's Talk.
Call Support
Monday–Friday
7:30 a.m.–5 p.m. Central Time
Email Support
Find a Distributor
For local sales and service support