Bin & Drum Unloaders
Graco's bin and drum unloaders can evacuate medium to high viscosity products from their original 55-gallon (208 l) drums or 300 gallon bins, without diluting the contents. Each system includes a pump ram with an inflatable seal that securely fits the bin or drum to reach evacuation rates up to 99%. Our drum unloader systems are compatible with both 55-gallon drums, as well as 300-gallon bag-in-bin containers.
EVACUATE HIGH VISCOSITY MATERIALS QUICKLY—99% EFFICIENT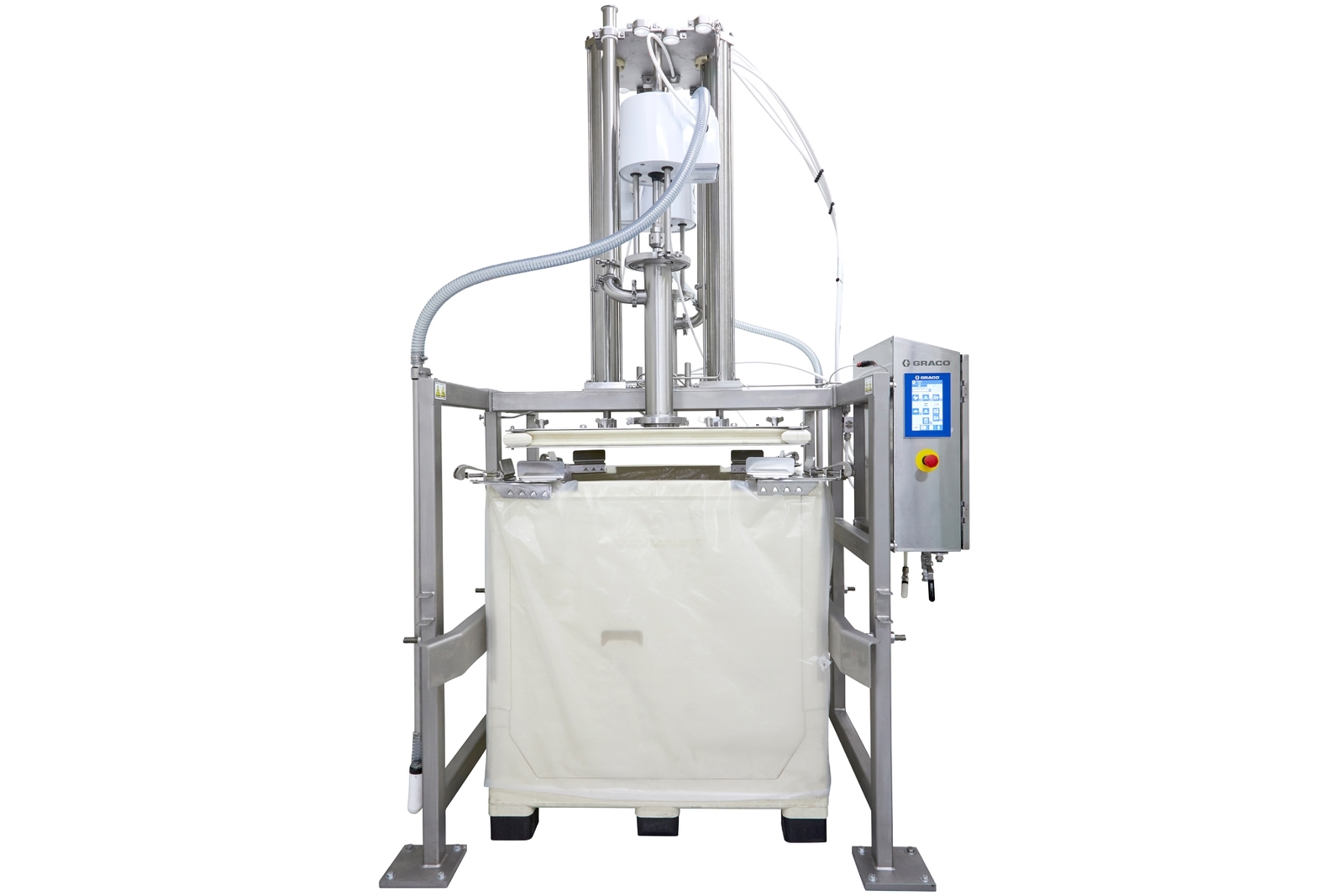 CLEANING AND SANITIZING IS AN EASY PROCESS
---
PROTECTS FOODS FROM CONTAMINATION
Our drum unloader and bin evacuation systems are designed with numerous built-in features that protect foods from contamination. Graco's piston pumps, for instance, are built with sanitary flanges, quick knockdown connections and an FDA-compliant shroud for the air motor, which makes cleaning and sanitization an easy process. The drum unloader and bin evacuation systems are also designed to protect ingredients from external contamination and bacteria because the follower plate and inflatable seal come in contact with all sides of the bin or drum, keeping the product covered during transfer.
FDA-COMPLIANT COMPONENTS
---
HANDLE JAM, FROSTING, PEANUT BUTTER, HEAVY CHOCOLATE, MORE!
Inflatable Wiper Seals Ensure High Evacuation Rates
During fluid transfer, Graco's seals inflate to conform to the container type and shape, which increases evacuation rates up to 99% through its ability to cleanly wipe down the container's sides.
No Need to Dilute Materials
With Graco's powerful bin and drum unloaders, there's no need to dilute materials. Our pumps can handle high viscosity materials such as peanut butter, frostings, toothpaste, corn syrup and heavy chocolate. (Viscosities up to 1,000,000 cps)
Available in Multiple Pump Configurations
For system flexibility, you can configure our bin unloaders with either double ball or priming piston designs. Each is designed and built to fulfill your technical requirements.
Filter results
---
Type
---
Pump Ratio
---
Maximum Fluid Pressure (psi)
---
Portable
---
Filters
Have Questions? Let's Talk.
Call Support
Monday–Friday
7:30 a.m.–5 p.m. Central Time
Email Support
Find a Distributor
For local sales and service support