Chemical Resistant Coatings Sprayers
Our chemical resistant coatings sprayers for manufacturing applications are capable of spraying epoxies and polyurea coatings and linings that will hold up to high concentration levels of certain acids, solvents and other aggressive and corrosive chemicals. These sprayers are designed to withstand the harshest environmental conditions and easily handle the toughest protective coatings and corrosion control applications.
PREVENT SUBSTRATE DETERIORATION WITH SPRAY-ON CHEMICAL RESISTANT COATINGS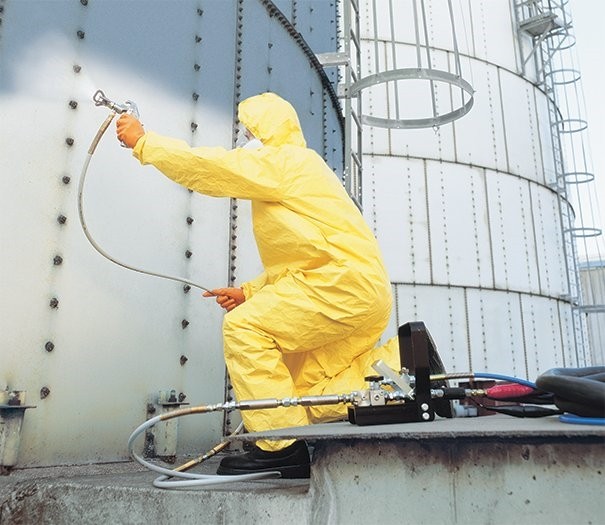 DESIGNED TO WITHSTAND THE TOUGHEST CHEMICAL & ACID RESISTANT COATINGS
For manufacturers and assemblers of holding tanks, pipelines and pre-cast concrete, Graco's chemical resistant coatings sprayers are ideal for applying coatings in-plant. These sprayers are designed for everything from small job shops to mid-production facilities.
HIGH QUALITY, HIGH VOLUME & HIGH PRESSURE
Extremely Flexible—Spray a Broad Range of Solids
Graco's corrosion control sprayers easily handle a wide range of the industry's most stringent solids—medium to high—including 100% solids and solvent-free coatings.
Easy to Maintain With Fewer Moving Parts
Like all Graco products, our coatings sprayers are easy to maintain. The onboard air motors have fewer moving parts, which make troubleshooting a fast process.
Browse Chemical Resistant Coatings Sprayers
Have Questions? Let's Talk.
Call Support
Monday–Friday
7:30 a.m.–5 p.m. Central Time
Email Support
Contact an Expert
We'll help you choose the right product for your use.