Automated Paint Systems
Whether you're new to paint automation or looking to make a switch, manufacturers of all sizes are benefiting from the many advantages of automation. Graco offers a broad spectrum of automatic conventional or electrostatic spray guns for robotic painting systems, which features automatic mixing and metering equipment. We have a dedicated team of paint automation experts who can answer your questions and address any concerns as you consider your options. Let's talk.
IMPROVE ROBOTIC SPRAY PERFORMANCE THROUGH TECHNOLOGY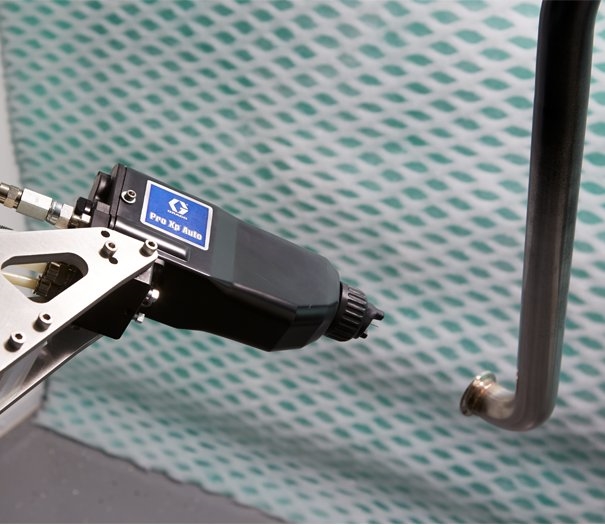 YOUR PARTNER IN ROBOTIC PAINT SPRAYING
---
DECREASE YOUR OPERATING COSTS, IMPROVE QUALITY
The benefits of automating your painting operations are numerous. Automation lowers your operating costs by reducing material waste up to 30 percent. You'll also reduce your labor costs while dramatically improving quality, reducing scrap and rework due to operator error. Along with a discernable spike in quality, you'll also experience part consistency on all your lines.
REDUCE WASTED MATERIALS
---
DRAMATICALLY IMPROVE FACTORY PAINTING PERFORMANCE
High Transfer Efficiency
Through automation you'll achieve very high transfer efficiency compared to conventional painting techniques. By increasing transfer efficiency you can reduce the amount of paint sprayed, which also reduces the amount of VOCs released into the environment while improving the life of your booth filters.
Unmatched Quality
You'll see a marked increase in quality when you decide to automate your painting production. Your accuracy is improved and repeatability unmatched.
Compatible with Many Robots
Graco's finishing automation solutions are compatible with scores of robots. We have a large team of engineers and experts dedicated to helping you make the jump to robots no matter where you work in the world.
Explore Automated Paint System Components