Automated Paint Systems
Manufacturers of all sizes are benefiting from automation. Complete your automated paint line with spray guns and mixing systems that easily integrate with robots and reciprocators.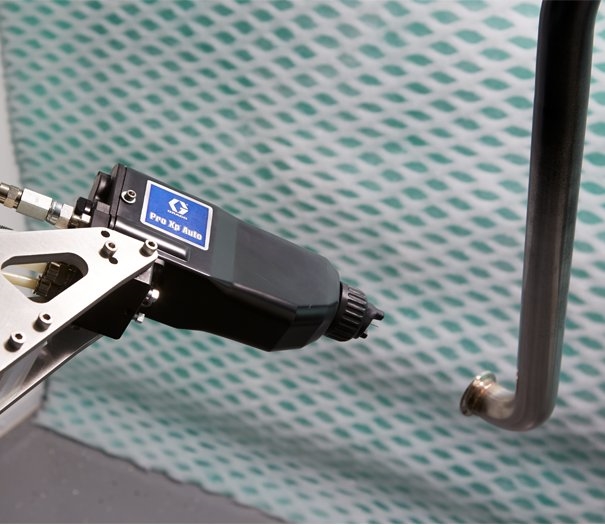 WHY ROBOTIC PAINT SPRAYING?
---
DECREASE COSTS, INCREASE QUALITY WITH AUTOMATION
Through paint line automation, you can…
Lower operating costs by reducing material waste by up to 30 percent
Reduce labor costs while dramatically improving quality, reducing scrap and rework due to operator error
Protect employees from dangerous conditions and repetitive tasks
Achieve high transfer efficiency, lowering the amount of paint sprayed, VOCs and waste disposal
Easy integration with robots and reciprocators
Graco proportioners and automatic spray guns easily integrate with robots and reciprocators.
Previous slide
Proportioner options
ProMix PD Positive Displacement System mixes material closer to the gun. This not only makes color changes faster, it also reduces flushing waste by up to 80 percent.
ProMix 2KS and 3KS Meter-Based Systems increase efficiency for mixing two- and three-component materials. Optimize for up to 30 colors and four catalysts.
Compatible robots
Painting robots compatible with Graco finishing solutions include:
Fanuc     

Yaskawa Motoman     

ABB   

Kawasaki  

P-250

P-250iB

P-350

P-350iB/45

P-50

P-50iB

Paint Mate 200iA

Paint Mate 200iA/5L

EPX2700

EPX2800

EPX1250

EPX2050

MPX3500

EPX2800R

EPX2900

IRB 5400

IRB 5500

IRB 580

IRB 52

KF121

KJ264

KJ314
Applicator options
ProBell Rotary Bell Applicators have the most advanced atomization technology, resulting in the best finish quality and transfer efficiency.
Pro Xpc Auto Electrostatic Spray Guns are lightweight and ideal for robots and fixtures with lower payloads with low voltage cable.
Pro Xp Auto Electrostatic Spray Guns are turbine-powered and ideal for low pressure, high quality spraying.
AirPro EFX Air Spray Guns are compact, lightweight and designed for small component, precision finishing.
AirPro Auto Air Spray Guns work well for the largest number of applications. The versatile applicators are ideal for low pressure spraying.
G40 Auto Air-Assist Spray Guns produce tight pattern widths and good transfer efficiency with high-pressure spraying.
AL Auto Airless Spray Guns are designed for high pressure spraying of high viscosity materials. They work well at high production speeds for general metal finishing applications.
Next slide
Automated Paint System Components
ROI Calculator
What return on investment can you expect from automation?
Finishing Automation
Automated paint systems improve performance and quality. See applicator ratings and fluid control options.
Finishing Solution Guides
Industrial finishers use robotics for auto parts, cookware, electronics, wood products, and many more applications.
Popular Automation Applications