Demo Proves Pivotal in Move to Automation
Realistic test shows flocking team what equipment could solve overspray, pot life and process control problems.
Finishing line decreases waste, increases quality control
CUSTOMER: Tier 1 automotive supplier
GRACO EQUIPMENT: ProMix PD, ProBell Rotary Atomizer
CHALLENGE: A tier 1 supplier used a powder coating technique called flocking to protect metal springs used in automobiles. This coating was designed to reduce friction and noise. The process included two steps:
Apply a thick poly-isocyanate adhesive.
Add flocking.
For step one, three operators applied the adhesive with manual conventional spray guns. This caused a few problems:
Overspray released dangerous levels of volatile organic compounds (VOCs) into the air, damaging employees' health and creating a safety hazard within the plant.
The adhesive had a very short pot life. Using manual hot pot methods to feed the spray guns unnecessarily wasted material.
Manual methods also made process control very difficult. There was no way to track material usage or practice any kind of repeatability.
SOLUTION: The flocking team traveled to Graco headquarters in Minneapolis for a live demonstration of the ProBell Rotary Applicator. The demonstration lab used their material and parts to give a realistic test of equipment that could solve their overspray, pot life and process control problems.
They quickly noticed the improved coverage from the ProBell. More material on the part and less in the air could mean less fumes and more safety throughout the plant.
A ProMix PD2K Automatic Proportioner fed the ProBell. The positive displacement (PD) system mixed the adhesive with accurate flow control and offered an efficient air-solvent chop cleaning sequence. Both features could reduce material and solvent waste, addressing both their pot life and VOC problems.
They controlled the PD2K and the ProBell with same screen that showed key metrics and tracking information. This could help them make sure their process was repeatable and predictable.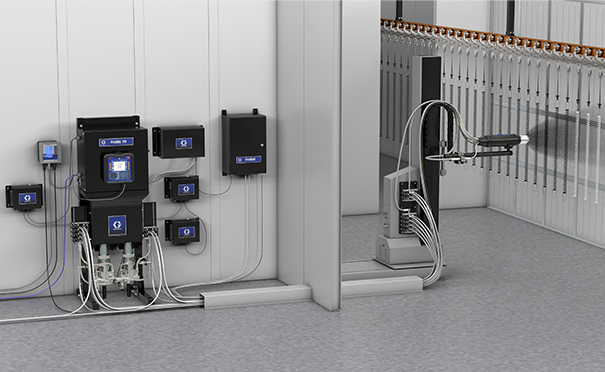 RESULT: They decided to take their first step in automating their finishing line with a ProMix PD2K and a ProBell rotary atomizer. Shortly after installation…
A reported reduction in solvent and material waste led to lower levels of VOCs
Quality improved noticeably with the ability to control and track key metrics
What is flocking?
Flocking is the application of millions of tiny fibers (called "flock") onto an adhesive-coated surface to create a velvet-like texture. Automakers use this process to finish glove boxes, center consoles and other areas inside of a vehicle.
Tier 1 Automotive Supplier
OEMs (original equipment manufacturers) demand components that look good and work well through harsh conditions. Tier 1 suppliers throughout the automotive industry achieve durable coatings and precise fluid dispense with Graco solutions.
Have Questions? Let's Talk.
Call Support
Monday–Friday
7:30 a.m.–5 p.m. Central Time
Email Support
Find a Distributor
For local sales and service support