Sealant Supply Systems & Pumps
Graco's supply systems and pumps reliably deliver sealants and adhesives from a wide range of containers. Supply systems and pumps reliably move viscous materials at ambient temperature and can also provide warm and hot melt material conditioning. Designed with advanced pump and motor technologies, Graco adhesive supply systems and pumps help maximize your plant's production capacity and are designed to integrate with all manufacturing lines.
IDEAL FOR VISCOUS MATERIALS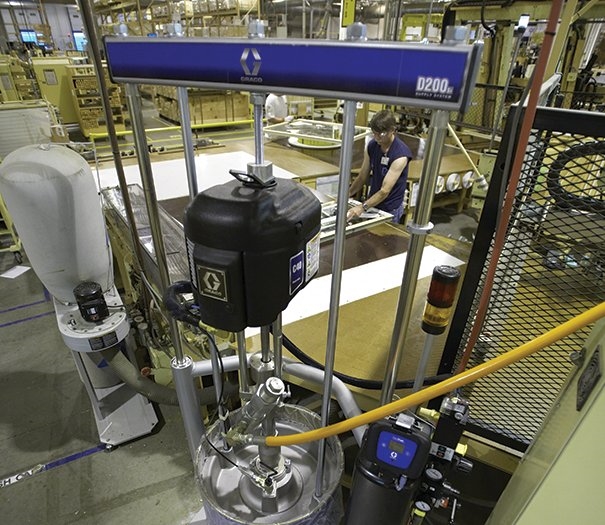 INCREASED UPTIMES
---
HIGH QUALITY TRANSLATES TO LONG EQUIPMENT LIFE
Because Graco supply systems and pumps are engineered and built with high-quality parts, you reduce maintenance time, maximize uptime, and benefit from longer equipment life. Additionally, you'll improve productivity and reduce your cost of ownership. See how a better seal design equates to less maintenance, and how better durability translates into increased uptime.
EASY MAINTENANCE
---
MAXIMIZE PRODUCTION WITH DURABLE ADHESIVE PUMPS & SYSTEMS
Reduce Your Cost of Ownership
In your manufacturing operations, you want sealant pumps and adhesive supply systems that last for years. To that end, we design and build our systems to require minimum maintenance, which lowers your cost of ownership.
Durable Design for Operating in Harsh Environments
Graco's entire line of supply systems and pumps are built to be highly durable in harsh, manufacturing environments. For you, that means high equipment uptimes and longer equipment life.
Maximize Your Plant's Production Capacity
You can push your plant's production capacity to the limit with Graco high-performance and reliable sealant supply systems and pumps. Intuitive controls and a host of other features complement any production line.
Browse Sealant Supply Systems & Pumps
Have Questions? Let's Talk.
Call Support
Monday–Friday
7 a.m.–4 p.m. Central Time
Email Support
Contact an Expert
We'll help you choose the right product for your use.