Check-Mate Pumps and Supply Systems
Check-Mate Pumps and Supply Systems reliably deliver one-component sealants, adhesives and other medium to high-viscosity materials from pails or drums to metering and dispensing systems.
Ideal for Medium to High-Viscosity Materials
---
Available as stand alone, with elevator or ram
Pressure ratio range: from 5:1 to 85:1
Minimizes left-over materials and reduces waste
High quality, durable parts
Tracks material usage and flow
Max. life option available for abrasive materials and prolonged life
System Features and Benefits
Available in Carbon Steel and Stainless Steel models; SST models for waterborne compatibility
Large internal porting for maximum flow
Floating piston seal and priming plate improve balance and performance
Maintains balance over a wide viscosity range 

Minimal bead distortion for critical dispensing of expensive materials
High flow and pressures increase production 

High output per cycle reduces wear for longer life and lower repair costs 
Typical Applications
Feeding high volume applicators, multiple meters or proportioners 

Transferring sealants or adhesives to one or more operator dispensing stations 

Packaging drums, pails, caulking tubes or chubs
Typical Fluids Handled
Sealants
Adhesives
Silicones
Epoxies
Acrylics
Urethanes
Inks
Mastics
Lubricants 
Butyls
PVC sealers 
Caulking compounds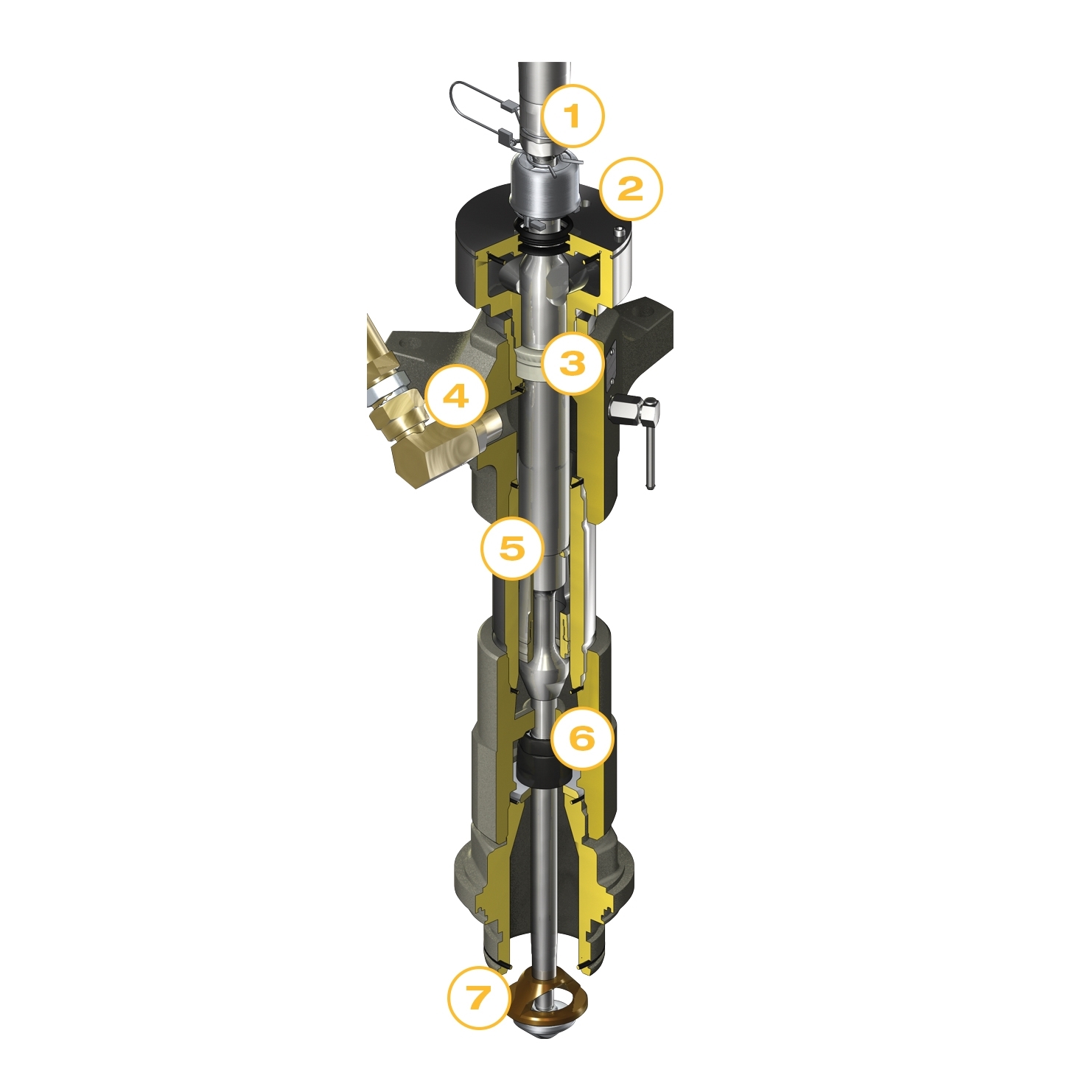 Xtreme Coupler: Quick-disconnect coupler for easy maintenance
Optional Enclosed Wet Cup: Prevents seal contamination and allows recirculation, and reduces maintenance and extends seal lif
Cartridge Throat Packings: Allows for easy servicing without removing from ram
Cast Outlet and Inlet Housing: Improves structural integrity
Piston Valve with Floating Piston Seal: For maximum pressure balance over a range of material viscosities 
Hard Part Coatings: Standard Severe Duty coating on rods and cylinder maximizes wear life
Replaceable Seat: Minimizes service cost
Floating Priming Plate: Provides uniform balance and flow
Browse Check-Mate Pumps and Supply Systems
GET HELP FROM A LOCAL DEALER
Have Questions? Let's Talk.
Call Support
Monday–Friday
7 a.m.–4 p.m. Central Time
Email Support
Contact an Expert
We'll help you choose the right product for your use.