Automated Adhesive Dispensing
Graco automated adhesive dispense systems deliver the precision and accuracy needed for today's small electronics manufacturing and assembly processes. Whether the application is bonding, sealing, gasketing, potting or encapsulation, proven Graco automated dispense technologies provide unmatched reliability and durability. Flexible designs and equipment sizes adapt easily as materials and parts change to ultimately streamline your processes and improve productivity.
Consistent Dispensing – Every Time
Less Waste and More Profits
Graco automated adhesive dispensing solutions are configurable for one and two-component chemistries and process a variety of material volumes, viscosities and temperature specifications. Designed to consistently deliver accurate ratios and volumes, material flows and pressures are maintained to achieve a consistent dispense bead resulting in less material waste with fewer scrapped parts and costly rework scenarios.
Increase Confidence & Profitability
Increased Confidence
With intuitive user interfaces and proprietary software, Graco advanced technologies eliminate guesswork to make sure you hit a specific volume, pattern and dispense ratio for 2K materials - the first time and every time. Simple set-up and operation is made easier for non-technical operators so you can be confident with the consistency and quality of your final product.
Scalability to Improve Efficiencies
Graco automated sealant dispense systems are scalable to meet the unique specifications of your fluid dispensing processes. Graco systems allow you to access and download process data for further analysis to continually refine your process, improve efficiencies and increase profitability.
Tackle Tough Jobs
Graco automated sealant dispense systems include the rugged equipment designed to facilitate fast, accurate dispense of tough-to-move materials. Modular pump designs to help reduce maintenance costs while improving uptime and throughput.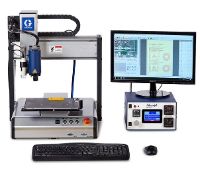 UniXact Series B tabletop dispensing systems provide the performance and capability needed for precise electronic product assembly. All the advanced process control needed for repeatable and high - quality jetting are included in these compact systems.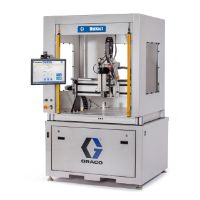 Graco offers a complete line of fully-automated precision fluid dispense cell systems. From automotive and consumer electronics component production, to medical devices and telecommunication assembly, our UniXact automated dispense portfolio provides high-quality material delivery backed by our mate...