Plural Component Mixing Equipment
Our plural component mixing equipment, including mechanical and electric proportioners, gives you the option to mix two-component and three-component materials. Graco's flexible paint mixing systems easily handle a broad spectrum of materials, including solventborne, waterborne epoxies, and acid catalyzed materials. Manufacturers in industries like wood and furniture, general metal, electronics, aerospace and vehicles turn to Graco for high-quality plural component spray equipment.
DESIGNED FOR ALL MANUFACTURERS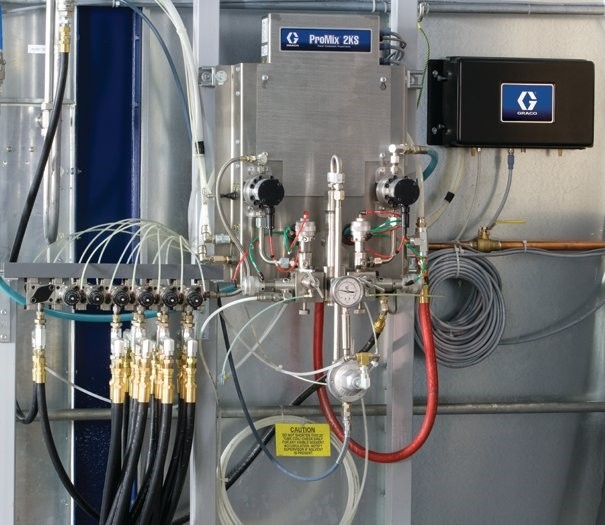 ELIMINATE WASTE
---
PRECISE CONTROL WHEN MIXING MATERIALS
You'll increase your efficiency and productivity with Graco's Plural Component Mixing Equipment through better and more precise control. Tighter control over your ratios also means less rework and you'll reduce or even eliminate waste—all resulting in significant savings to your bottom line. Additionally, Graco's proportioners are either pump based or meter based, giving you the exact measurements needed for mixing materials.
Browse Plural Component Mixing Equipment
Filter results
---
Proportioning Type
---
Material Type
---
Maximum Number of Colors
---
Filters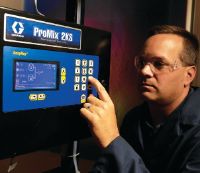 ProMix 2KS plural component mixing system offers precise and reliable electronic proportioning from entry level to upgraded applications. Compatible with solventborne, waterborne and acid catalyzed materials, the two-component proportioner provides the flexibility and efficiency you need on your pro...
Free, 30-minute Webinar
---
Plural Component Mixing: How to Calculate ROI
This on-demand webinar covers how to calculate the return on investment (ROI) for plural component (2K) mixing equipment.
Have Questions? Let's Talk.
Call Support
Monday–Friday
7:30 a.m.–5 p.m. Central Time
Email Support
Find a Distributor
For local sales and service support