Harrier Series
Graco AC and DC electrically powered Harrier controllers offer basic off/on time control with the Harrier EZ and enhanced smart control capabilities with Harrier+ controller. Harrier+ remotely manages chemical injection pumps and has tank level monitoring via SCADA or through cellular connectivity.
Chemical Management System
---
Remote monitoring
Cellular and Modbus communications
Flow verification
Tank level monitoring
4-20 mA input
Previous slide
Remote Monitoring
Remotely monitor and control your chemical injection system                     
Remotely collect, monitor, and analyze critical data                                        
Data communication via Celluar web-based portal                                         
Connect to an existing SCADA system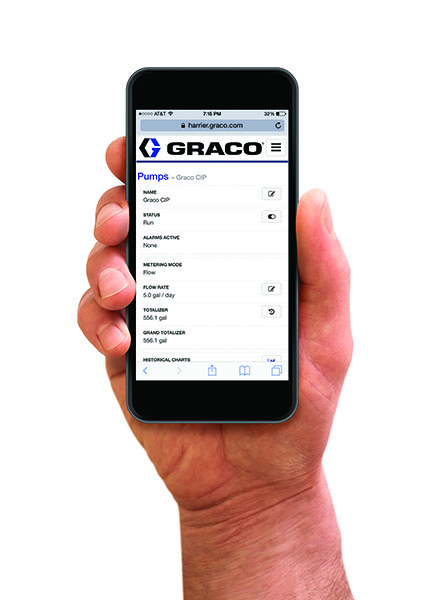 Flow Verification
Receive alarms and notifications if pump leaks
Ensure chemical injection assets are properly and efficiently operating to help reduce downtime
Smart controls know when pump is leaking
Alarms and notifications can be customized
Analog input signal
Can hook up additional auxiliary equipment such as an H2S or O2 meter   
Automatically adjust dosing per measured levels of H2s or O2
Next slide
Have Questions? Let's Talk.
Call Support
Monday–Friday
7:30 a.m.–5 p.m. Central Time
Email Support
Contact an Expert
We'll help you choose the right product for your use.