PerformAA Air Assist Spray Guns
Manual and automatic air assist and airless spray guns deliver performance above all while finishing any product that demands top quality.
Achieve top-notch results with air assist and airless spray guns that produce superior transfer efficiency and atomization. Both manual and automatic applicators feature:
Air caps designed for specific materials, including general finishing, wood lacquer, low viscosity, high viscosity, quick drying and waterborne
Fine finish and pre-orifice spray tips that eliminate pattern streaks and deliver a consistent, exceptional finish
Designed with Your Finishing Operation in Mind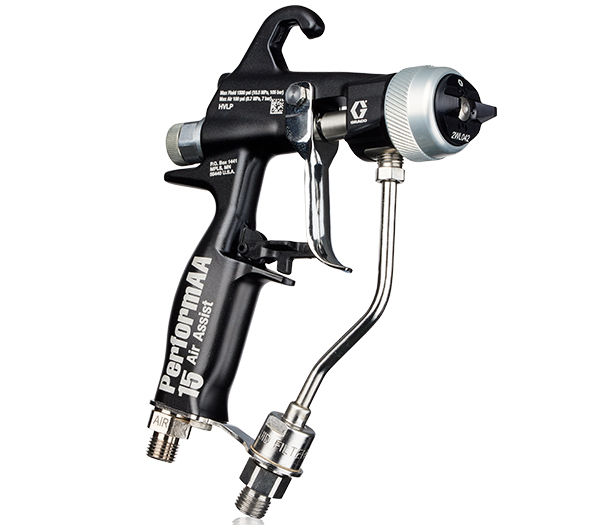 PerformAA 15, 50 and Airless manual spray guns maximize operator comfort and productivity with proven, field-tested quality.
Ergonomic handle and finger rest fit comfortably in any sized hand.
Low gun weight (the lightest on the market) and ultra-light trigger pull reduce fatigue and muscle stress.
Cartridge-style components make maintenance quick and easy, minimizing downtime.
PerformAA Auto comes directly from our factory to yours with features you'll find in no other automatic air-assisted spray guns.
Air caps and tips produce high performance spraying on flat lines, robots, reciprocators and other automated systems.
Angle indicators and the Graco Gauge help operators and maintenance technicians set and quickly repeat exact air cap orientation.
Browse Air Assist Spray Guns & Packages
Have Questions? Let's Talk.
Call Support
Monday–Friday
7:30 a.m.–5 p.m. Central Time
Email Support
Find a Distributor
For local sales and service support