BELGIAN BREWERY REAPS THE BENEFITS OF AUTOMATIC LUBRICATION
The Duvel Moortgat Brewery has selected a 1725-point automatic lubrication system from Graco for its 180,000 per hour bottling line.
Duvel Moortgat Brewery is a Flemish family-controlled brewery headquartered in Puurs, Belgium. Founded in 1871, it is most famous for its strong golden pale ale, Duvel. With a surprisingly high alcohol content (8.5%), large head, fine effervescence and silky smooth feel in the mouth, Duvel stands out in the highly crowded marketplace of Belgian beers. As a result, Duvel is exported to more than forty countries. The brewery also produces the beers Maredsous, Vedett, Achouffe, and de Koninck. In total, the brewery can fill between 150,000 to 180,000 bottles of beer an hour.
 
Optimal lubrication is vital
With its bottling lines operating at such high capacities, it is of course essential that they are optimally lubricated to keep them up and running. This is a common need for any brewery, but is no easy task. Product spills can lead to equipment corrosion. Sanitary washdowns to clean equipment of contamination can lead to lubricant leakage or, even worse, remove lubricants from key bearings. Bearing failure and the resulting downtime leads to lost production and increased operating costs. At the same time, the brewing industry is becoming increasingly automated, involving the use of more high-speed, high-tech machinery, all of which has to be efficiently lubricated for top performance.
Moreover, it's obvious that a company like Duvel Moortgat Brewery does not want lubricants to go where they shouldn't go: into their bottled beer. Product spoilage, even when quickly identified, can lead to large quantities being discarded, productivity losses, and significant costs to clean up the equipment and get it running again. If not identified, a company's quality image could be seriously impaired when it fails to comply with health, safety and environmental regulations. To meet all these challenges, proper lubrication of all the equipment and processes in the brewing industry is essential.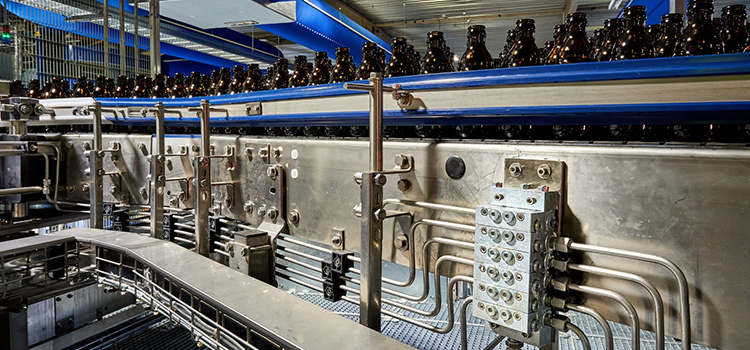 The benefits include increased productivity and profitability, reduced unplanned downtime, longer intervals between maintenance, reduced environmental impact, and lower energy consumption.
 
Graco enters the brewery
Graco started working with Moortgat Brewery back in 1991, with the installation of a 1035-point progressive divider lubrication system on the existing bottling line for Duvel beer. Thanks to full monitoring of the system, it became noticeable that lubrication was not getting through to 22 of these lubrication points, resulting in bearings wearing out fairly quickly. By addressing these issues, bearing replacement became no longer necessary.

Following this project, a monitored 140-point series-progressive automatic lube system was installed on the existing keg filling line for their Vedett beer, as well as some zone system changes on the bottling line due to extensions and machine replacements that had been made. These changes resulted in increased uptime of the production line and savings in terms of money, efficiency, productivity and labor. The latter aspect was particularly beneficial as automatic lubrication meant that the maintenance staff no longer had to lubricate each lube point manually – an extremely time-consuming process.
 
One central automated lubrication system for the full plant
In 2002, Duvel Moortgat Brewery decided to renew the complete production hall and ordered a new high-capacity bottling line. It was immediately equipped with a Graco 1725-point automatic lubrication system. Every lubrication point was monitored and in case a lubrication cycle didn't take place, an alarm signal was generated.
A multi-zone progressive divider system was installed, powered by one pump for all 1725 lube points. This is a barrel pump installed on a 60 kg barrel, which feeds the complete system. For ease of use, a parallel standby pump was installed, to enable quick and easy barrel changeovers.
 
Choosing the right dividers
Graco makes a wide range of top quality progressive dividers that meet the lubrication requirements of bearings and other lubrication points, and are available in carbon steel and stainless steel. For Duvel Moortgat Brewery, Graco distributor Lion Oil installed high quality Graco Trabon MSP and Trabon MXP dividers.

The Trabon MSP Series was the original modular-style series progressive divider valve – and continues to be highly rated. Its quick change valve sections can be removed from the base assembly without disturbing any lube lines. This minimizes labor cost and maximizes machine uptime.

A built-in outlet check valve ensures accurate lube delivery, every time. An alternative outlet on the face of the valve can be fitted with optional performance indicators, to make troubleshooting so much easier and more reliable.
The Trabon MXP Series' greater output volume makes it easy to customize an assembly to meet larger machine requirements, for example with magnetic and electronic proximity switch cycle indicators to provide positive assurance of a successful lube event. It offers the largest output available in a series progressive system, and is ideal for heavy-duty and large bearing applications with wide temperature variations and high volume requirements. 
"Graco has been partnering the beverage industry for decades, and offers automatic lubrication equipment for filling machines, packaging machines, bottling and canning lines, ovens, washers, dryers and more," says Charles Hartl, Global Product Marketing Manager, Lubrication Equipment Division, Graco. "Our equipment is renowned for providing a finely controlled delivery of lubricant without any risk of contamination through atmospheric misting. What's more, it's resistant to caustic washdowns that are used to clean machines and bottles." 
 
Have Questions? Let's Talk.
Call Support
Monday–Friday
7:30 a.m.–5 p.m. Central Time
Email Support
Request a Quote
We'll help you choose the right product for your use.