Making Electric Vehicles (EVs) Safer
More battery power and faster battery charging increase the risk of fire breaking out in the EV battery compartment. New battery safety standards therefore require a fresh look at how to effectively fireproof EV batteries.
With the continuing growth of the global electric vehicle (EV) market, battery technology advancements are leading to faster charging, higher energy and longer cycle life. Unfortunately, safety concerns relating to battery failures and fires are rising in parallel.
If excess heat builds up in a battery because the cells are generating a lot of power, or are being charged rapidly, a fire can break out. A fire can also occur if a battery is damaged in an accident.
5 Minutes That Could Save Lives
China, which sold 3.31 million new energy passenger vehicles in 2021 to account for a 53 percent share of the global market, experiences one EV-related fire per week. In response, China has issued three new national safety standards. One requires that the EV provides a 5-minute advance warning of a hazardous situation inside the passenger compartment that stems from thermal runaway and propagation from the vehicle battery

Similar regulations are expected to come into force in Europe and North America. The consequence of these standards is that measures need to be taken to ensure that should a fire break out in an EV battery, the driver should have five minutes to stop the car and evacuate the vehicle along with any passengers.
EV battery manufacturers are therefore assessing their battery safety and making improvements where needed to comply with these new standards.
One such measure involves limiting thermal runaway and thermal propagation by coating the battery cover with intumescent materials. These swell under the influence of high temperature to form a charred multicellular layer, which then acts as an insulating barrier and slows heat transfer.
Learning From the Oil and Gas Industry
Such intumescent materials have been used for decades in the oil and gas industry. A leading global manufacturer of intumescent material spraying systems is Graco. They offer a full line of PFP (passive fire protection) sprayers designed to apply a broad range of intumescent fireproofing materials on pipe racking, I-beams, structural steel, storage tanks and more in the oil and gas industry.

Specifically, Graco's XM PFP technology is used worldwide to mix and spray intumescent coatings. They incorporate a range of components that have been specially selected for this application, including:
High-pressure pumps to force the viscous materials through lines. In addition to being composed of 100 percent solids, intumescent materials containing fibers to reinforce the coating can require up to 6,000 psi pumping pressure to convey the material.
Heaters bring component material to proper temperature before pumping. At ambient temperatures, intumescent epoxy materials are too thick to pour from the container. To condition the material and properly feed the metering pump, the material must be both heated and agitated under pressure.
Heated manifold helps provide consistent coating temperatures in cold climates.
Spray tips tailored to high-viscosity materials are essential. Where spraying standard protective coatings typically employs orifices of less than 0.025 inches, intumescent epoxy coatings typically require orifices in the 0.035 to 0.039 inch range.
Larger hoses and valves are typically used in Plural-component PFP equipment. Hoses are often 3/4 inch in diameter. Dosing valves and ball valves are sized to allow a proper flow of both components. The static mixer has a 3/4-inch interior diameter and the spray gun also has larger fluid porting than a standard airless gun.
"Because of our considerable experience in spraying epoxy intumescent materials in the oil and gas industry, we were approached by a Tier 1 EV battery manufacturer to offer a solution to fireproof their EV battery covers," explains Stephan Rindfleisch of Graco's eMobility Customer and Innovation Center in Germany. "However, we soon realized that although the general operating principles would be pretty much the same, we would have to significantly adapt our current products for this new application."
Specific Requirements for EV Battery Covers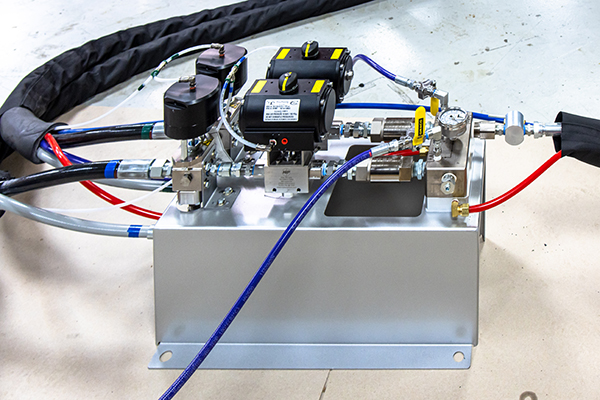 The main challenge facing Rindfleisch and his team at Graco was the difference in safety window. On an oil rig, for example, intumescent material needs to provide a safety window of 60, 90 or 120 minutes to enable evacuation. This requires intumescent material to be sprayed to a thickness of between 4 and 12 mm.
For the 5-minute safety window of an EV battery, a layer of intumescent material of only 0.6 to 1.2 mm is required.
At first sight, one might imagine that spraying a thin layer is easier than spraying a thick layer. Not at all, as Rindfleisch explains, "Epoxy intumescent material is a thick, high-viscosity, fiber-filled material. Getting a repeatably consistent thin layer is extremely challenging! It's easier to spray a thick layer."
This challenge was met by taking Graco's existing XM PFP technology and almost completely redesigning it to meet the task at hand. The manual ball valves were removed and replaced with automatic ball valves. The shutter valves were redesigned. New automatic feeding lines were installed to automatically refill the tanks. Recirculation lines were added.
At the same time, communication protocols were added to make sure that the system could communicate with the industrial ethernet standard PROFINET, which is the communication backbone for Industry 4.0 in automation technology. Everything was automated via a communication gateway that communicates to the robotic system of the supervisory control system.
The resulting product was even given a new name: the Graco Protector. It's a complete system for the application of fire-protection coating on EV batteries. The main components are:

Central bulk supply system from 200-liter drums, with a tandem, double-post ram supply per component
Conditioning tank for each component, including a double-walled, heated pressure tank, back-geared agitator, guided radar level sensor and an automatic refill portion, mounted on a stand
Proportioning unit with variable mix ratio (1:1 to 10:1), including high-pressure dosing pumps, two high-volume fluid heaters, dosing valves and electronic controls as well as communication gateways to be integrated in a production environment
Bundle of heated hoses to transfer the two components to the mix manifold, including return hoses for fast heat-up times, a solvent supply line and all necessary water and air lines to maintain temperature and control valves
Automated mix manifold with automatic shut-off valves, automatic recirculation valves and solvent connections
Additional 

heated hose bundle

for transfer from the mix manifold to the automatic spray gun with a temperature and pressure sensor option at the gun manifold
Automatic airless spray gun, mounted on the heated manifold
Central solvent supply system with a high-pressure, high-volume piston pump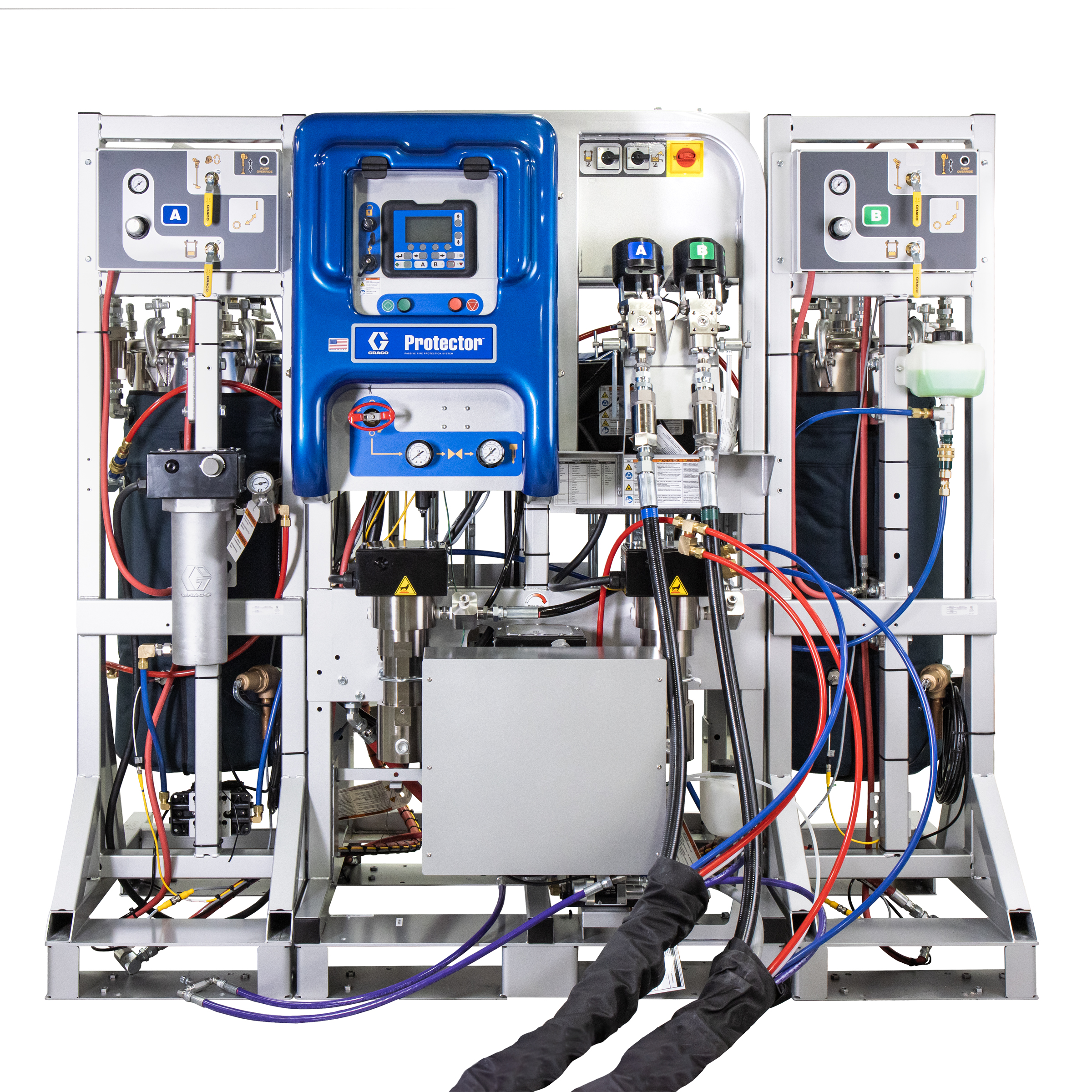 The prototype Graco Protector system was tested with an integrator in Germany and passed with flying colors. It enables a thin and uniform layer of epoxy intumescent material to be automatically sprayed on one side of an EV battery cover in just 25 seconds. Prior to spraying, a robot adds masking to cover up mounting holes, and immediately after spraying another robot removes the masking.

"Depending on the size of the EV battery cover, one or two robots are used to spray simultaneously," adds Rindfleisch. "The battery cover can then be flipped and the external side sprayed if necessary. This would protect the battery from being damaged by a fire external to the battery."
The system was then geared up for use on a full production line, by enabling transfer from 200-liter or even 1000-liter containers with a supply line going to the conditioning tank into the machine and from there to the automatic sprayers.
The first order for the Graco Protector system came, not surprisingly, from a robot manufacturer in China where it is going to be used on the production lines of a European automotive manufacturer. It was followed soon afterwards by an order from a North American system integrator.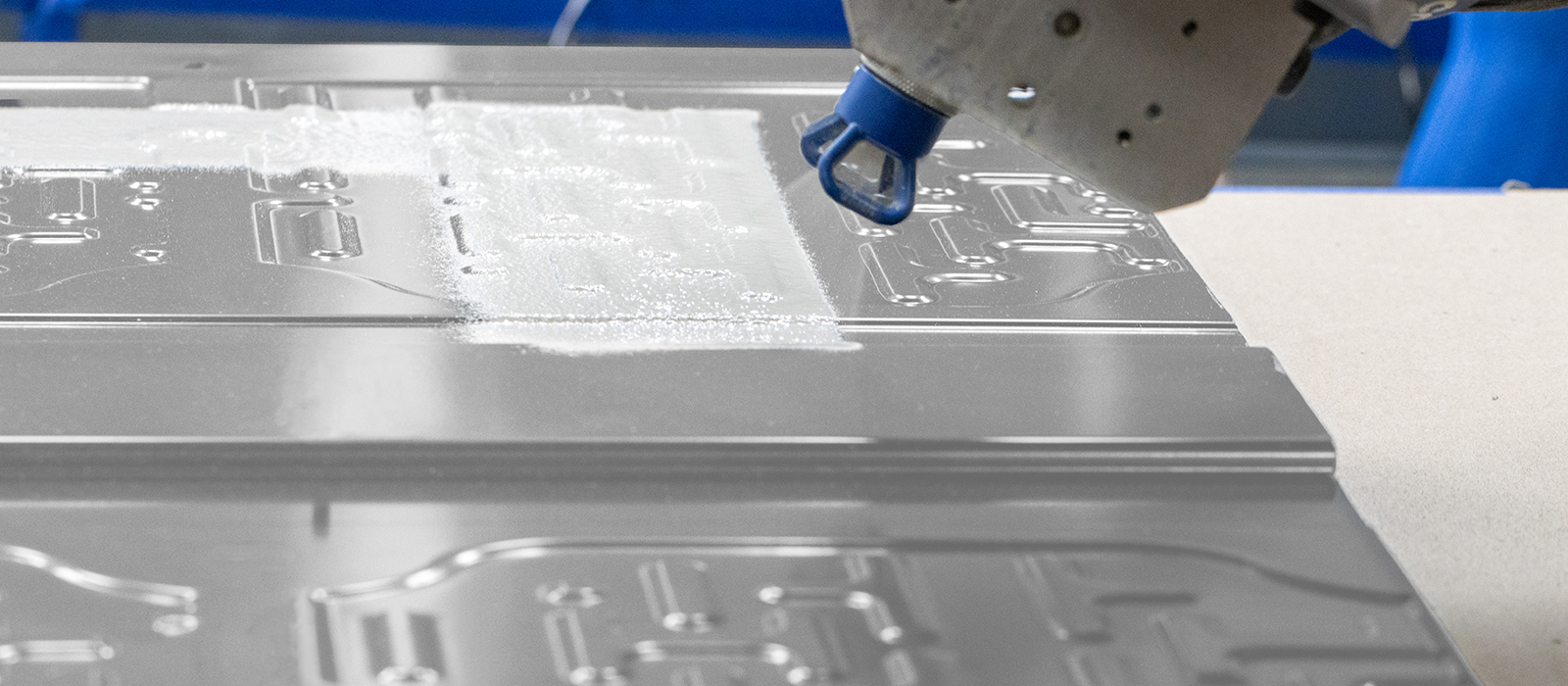 With demand increasing for EVs, and new battery safety regulations expected to come into force in Europe and North America in 2023, manufacturers are keen to have an efficient intumescent material spraying system in place as soon as possible. Such a system is essential to protect the vehicle battery from a fire and help mitigate thermal runaway events.

This article originally appeared in the 2022 autumn issue of e-mobility. Read the original article on e-motec.net.
CONTACT AN EV SOLUTIONS EXPERT
EV Battery
Explore sealing, bonding, and thermal management solutions for electric vehicle (EV) and hybrid vehicle (HV) battery pack and module assembly.