Spray Guns & Applicators
For a broad range of manufacturing applications, Graco has a complete line of innovative spray guns and applicators. Our spray guns consistently deliver top performance and versatility for painting metal, wood, plastics, and more. Whether you need manual or automatic spray guns, you can choose the options that specifically fit your needs. Available in a range of spray types: air spray, air-assisted, airless, electrostatic and rotary bell.
IDEAL FOR A WIDE VARIETY OF APPLICATIONS, INCLUDING AUTOMOTIVE, GENERAL METAL, WOOD, AND WATERBORNE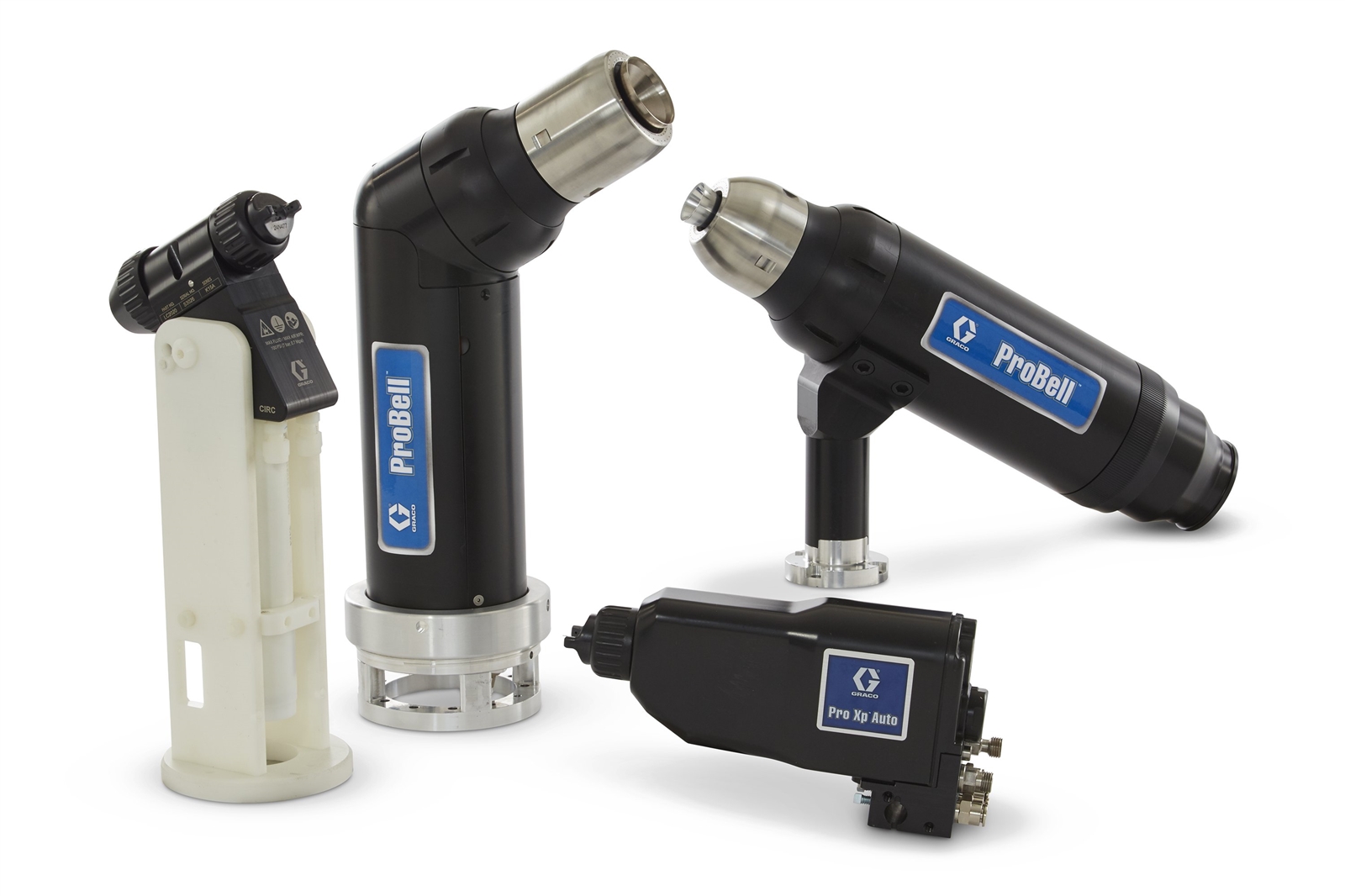 OPTIMIZED SPRAY PERFORMANCE
---
ENGINEERED FOR MAXIMUM TRANSFER EFFICIENCY
Graco's manual and automatic spray guns are designed with a range of applicator technologies for high-quality performance throughout our product lines:
Air Spray: The most widely used finishing method. Referred to as an automotive finish or Class A finish. Easy to use, flexible and provides the finest finish quality and the lowest transfer efficiency. Technology types include compliant, HVLP and conventional
Air-Assisted: Combines the hydraulic atomization of airless with air for fine atomization. Ideal for many finishing and coating applications, air-assist offers high production levels and a high quality finish - perfect for wood furniture topcoats or fabricated metal parts.
Airless: Directs fluid under high pressure through a controlled orifice to accomplish airless atomization. Ideal for quickly applying high volumes of coatings to large surfaces. Most often used to apply protective, rather than decorative coatings.
Electrostatic: Very high transfer efficiency. Material is electrostatically charged and is attracted to the grounded (neutral) object/part to form an even coating. Especially suitable for high production levels requiring a Class A finish. Technology types include air spray, air-assisted and rotary bell.
TAILOR TO FIT YOUR NEEDS
---
A SPRAY GUN FOR ALL APPLICATIONS
Lightweight, Ergonomic Handheld Models
Available in a broad range of lightweight handheld models that can be tailored to fit your specific application or material requirements.
High Performance Applicators for Automated Paint Systems
Graco's conventional and electrostatic automatic spray guns deliver the highest spray performance for automated paint systems.
High-Quality Results With Even Paint Coverage
Achieve high-quality results and even material distribution through an optimal spray pattern across our entire lineup of industrial spray guns.
Browse Spray Guns & Applicators
Filter results
---
Applicator Type
---
Filters
Filters:
Spray Type: Electrostatic
Clear all
Have Questions? Let's Talk.
Call Support
Monday–Friday
7:30 a.m.–5 p.m. Central Time
Email Support
Find a Distributor
For local sales and service support