Ratio Assurance Leads to Less Rework at Woodshop
Hand mixing conversion varnish led to off-ratio material and rework problems for an Amish cabinet and furniture maker.
Amish cabinet and furniture manufacturer gains ratio assurance with easy-to-use proportioner
CUSTOMER: Wood cabinetry manufacturer and finisher
GRACO EQUIPMENT: ProMix 2KE Acid Catalyst Proportioner
CHALLENGE: Off-ratio conversion varnish can cause real problems in any wood shop. Too much catalyst leads to a brittle finish, while too little catalyst will not dry properly and leave the part sticky.
In either case, rework is needed. Off ratio varnish must be sanded off, and new material must be mixed at the correct ratio before reapplying coating.
This process became all too common for an Amish custom furniture and cabinetry manufacturer.
Since their entire plant ran on a generator, they hand mixed all of their materials. Because the pot life was only about six hours, they were forced to several times per day. This took about 15 minutes per batch.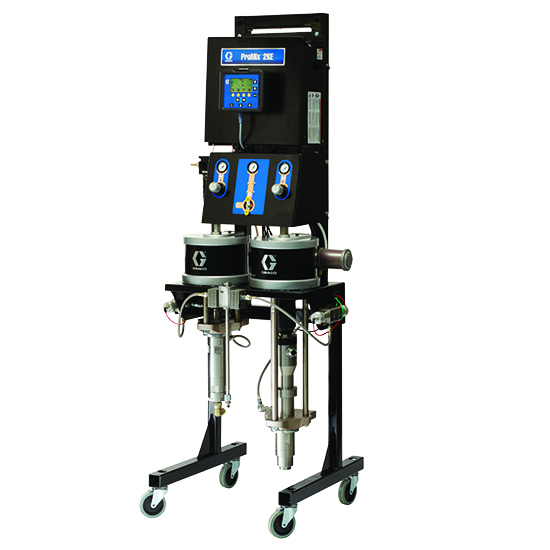 SOLUTION: Although they normally did not use industrial technology, the Amish woodworkers could hook up a ProMix 2KE Acid Catalyst proportioning unit to their generator. They also used an air compressor to feed the proportioner with pneumatic pumps.
Using Graco training tools and the help of their local account representative, the owner of the furniture and cabinet manufacturer found the 2KE intuitive and easy-to-use.
RESULTS: It has been over a year since installation, and the manufacturer has experienced zero rework due to off-ratio material.
On top of that, the wood finisher still finds the equipment easy to use and has had no major maintenance issues.
Have Questions? Let's Talk.
Call Support
Monday–Friday
7:30 a.m.–5 p.m. Central Time
Email Support
Find a Distributor
For local sales and service support