Furniture Company Better Manages Tough Acid Catalyst Application
Mix-on-demand wood finishing system handles harsh varnish with zero off-ratio rejects.
CUSTOMER: Wood Furniture Company
GRACO EQUIPMENT: ProMix 2KE Acid Catalyst Plural Component Proportioner
CHALLENGE: A high-end wood furniture company needed a better way to mix conversion varnish.
Their mixing equipment was expensive to operate, had obsoleted parts, leaked, and wasn't acid resistant. It also had mixing and finishing issues (not drying, sheen difference, etc.).
The customer used about 5 gallons a day and wanted a mix-on-demand system that could handle the harsh varnish.
SOLUTION: With help from their distributor, they selected a ProMix 2KE Acid Catalyst Plural Component Proportioner because:
It's designed to manage tough acid catalyst applications used in wood applications.
The corrosion-resistant fluid section, as well as the smart fluid plate with 316 and 17-4 SST catalyst sections, can easily handle strong acid catalysts.
RESULTS: In less than a year, off-ratio rejects dropped to zero, from 2 to 3 percent.
More than a year later, the ProMix 2KE Acid Catalyst Proportioner still looks like new, has no leaks, and is ideal for mixing on-demand.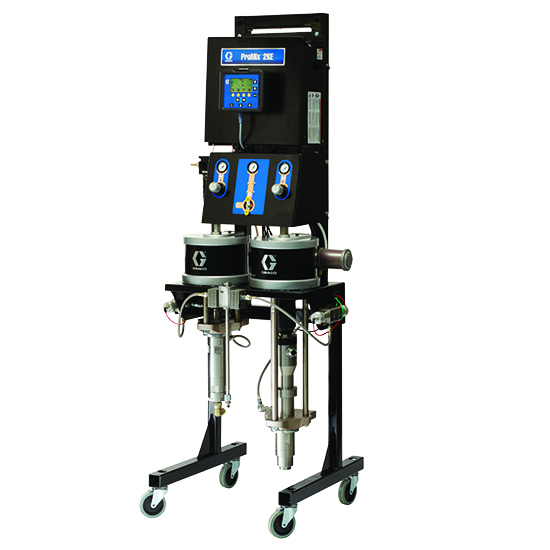 Have Questions? Let's Talk.
Call Support
Monday–Friday
7:30 a.m.–5 p.m. Central Time
Email Support
Find a Distributor
For local sales and service support