InvisiPac Optimizes QED Environmental System's Packaging Process
QED Environmental Systems is a premier manufacturer and provider of environmental technology solutions that serve a variety of industries like Food and Beverage, Landfill Gas Management, Water Remediation and Treatment, Oil and Gas, and Medical. With products ranging from wireless data systems to groundwater sampling and gas detectors, QED needed a packaging solution that could be utilized to fit the various sizes of their products.
 
Previously, QED's packaging process consisted of buying and storing standard-size, pre-made boxes in their factory, and then manually sealing them with tape. There was little automation and they did not have a hot melt system as a part of their former process.
Tasked with finding a way to reduce the space in the factory the pre-made boxes consumed, and make the shipping operation more efficient, QED's Manufacturing Engineer, Cory Conroy, worked with a Packaging Consultant to identify areas of improvement and develop a plan that would optimize QED's packaging process.
 
The Need for a New System
At first, their vendor offered QED a competitor's glue dispenser as a standard; This required a daily 30-minute cleaning as well as manually adding glue pellets throughout the day. After realizing this was not a solution for their process, doing his own research, and considering the feedback from the Packaging Consultant, Mr. Conroy decided that a customized, on-demand packaging strategy with an InvisiPac Tank-free Hot Melt System was the right solution for QED. Working with a team comprised of representatives from a leading on-demand packaging OEM and members of Graco's Packaging team, everything was handled from the initial installation to continued ongoing support.
 
QED packages all types and sizes of products, so they needed a solution that could be flexible and efficient to their process. When considering other systems, Graco's InvisiPac Hot Melt System outperforms existing tank and tankless systems on the market, in part, because of its unique tank-free design. It is an all-in-one tank-to-tip solution, so QED was able to allocate much less space for their packaging solution compared to storing thousands of pre-made boxes in the factory.
 
"Since we have installed the InvisiPac Hot Melt System, we have had to do zero maintenance. It does what we need it to do and is one less thing to worry about"
- Cory Conroy, QED Manufacturing Engineer
Instead of a traditional tank, InvisiPac uses melt-on-demand technology so only the exact amount of adhesive you need is prepared. This was efficient to QED's packaging process because for all of their different sizes of packages adhesive needs vary, and the InvisiPac system eliminates melting and wasting excessive adhesive. As opposed to manually packaging with tape, QED is able to have a short start-up of just 10 minutes with Graco's InvisiPac and operate at a more optimal speed. This reduction in start-up time translates to a 48% decrease in energy usage, contributing to a sustainable packaging process as well. Additionally, the InvisiPac allows for time on and off operation, so the system starts up and is ready before staff even clock in for the day and automatically shuts off at the end of each day.

In contrast to other hot melt systems, InvisiPac proved to be the best fit for QED because of the integrated applicator with module filtering that eliminates plugged nozzles and produces a consistent bead of adhesive on every box. QED can also track adhesive usage monitor real-time system performance, and access line data from anywhere at any time with InvisiPac's LineSite Remote Monitoring System. Regardless of QED's packaging needs, they can rely on the InvisiPac system's true melt-on-demand design because it promises cost-effectiveness, optimized production, and adhesive savings in case and carton sealing operations.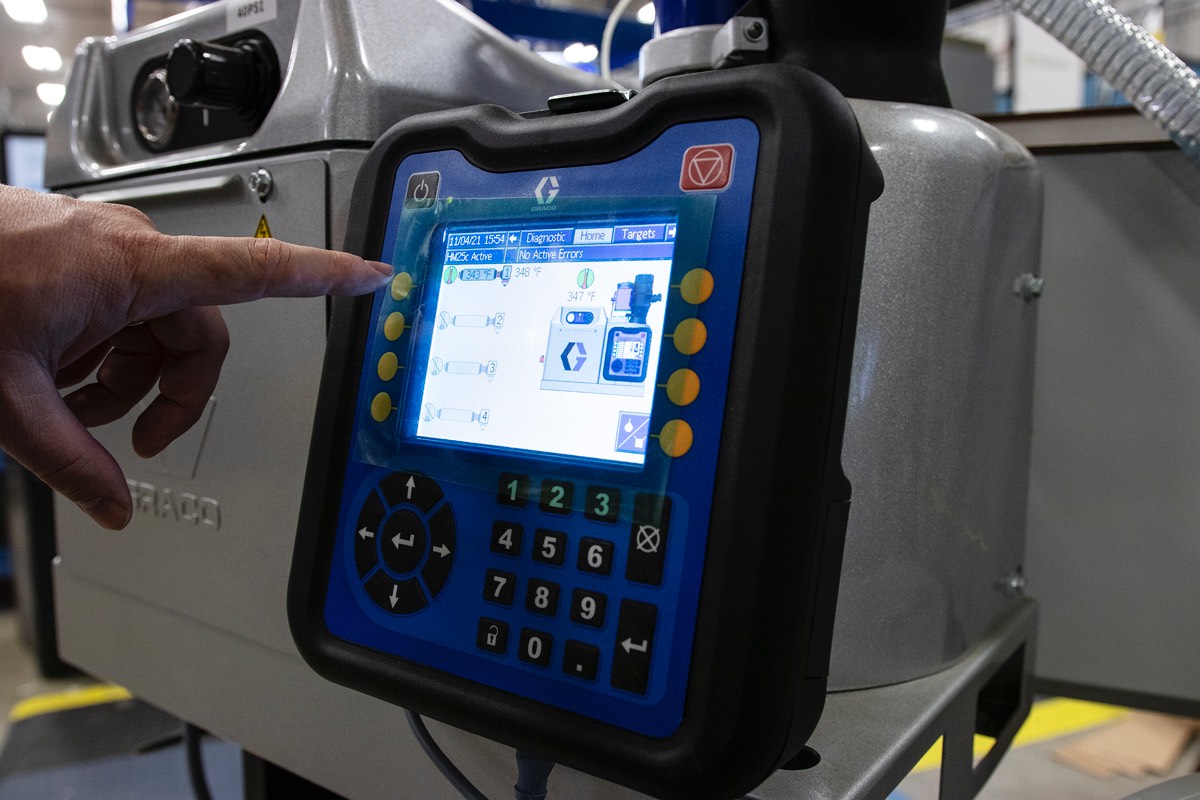 After only a few months of operating with the new InvisiPac Hot Melt System and on-demand packaging equipment, QED realized major improvements to their packaging process. One of the main benefits has been an overall cost savings of 22% and a 40% reduction in corrugate alone. Also, since the InvisiPac system only has a 10 minute start-up time they don't need to have it running around the clock, which results in energy savings. Additionally, InvisiPac's hopper only requires refilling on a monthly basis while upholding zero maintenance or daily tasks for operations.
Another one of Mr. Conroy's favorite aspects of the InvisiPac is the Automated Feed System which continuously supplies the InvisiPac with adhesive and eliminates operator exposure to molten hot melt material. Since QED retired their outdated packaging and shipping process they have been able to optimize their savings and redesign their shipping and handling center, all thanks to their new on-demand solution and Graco's InvisiPac Hot Melt System.
 
Have Questions? Let's Talk.
Call Support
Monday–Friday
7 a.m.–4 p.m. Central Time
Email Support
Contact an Expert
We'll help you choose the right product for your use.