Rasco Modernizes Machine Coating Line
Graco paint shop solutions help a top manufacturer of maintenance vehicles meet quality goals, as well as sustainability and reliability criteria.
How can outdoor machinery be optimally finished to ensure adequate protection in severe environmental conditions, including those beyond the Arctic Circle? To remain a leading global manufacturer, RASCO needed to find out.
Investments Lead to 20% Cost Savings
The Croatia-based company began the largest investment cycle of its 30-year history in 2017. Nearly 6 million euros (EUR) later, RASCO completed three facilities, where Graco solutions have helped increase capacity, efficiency and productivity.
"Thanks to our investments in our new coating line and the high performance and reliability of Graco equipment in our paint booths, we have realized significant benefits," said Silvio Rogoz, paint shop manager.
"These include faster throughput, less maintenance downtime and costs, and reduced mixing material consumption, which translates into cost savings of around 20 percent."
Increasing Coating Capacity while Maintaining Quality
RASCO's surface protection line consists of three parts:

An automatic shotblasting chamber that removes impurities from the material
Seven lacquer chambers in which anti-corrosive protection is applied 
An 180-meter-long completely automated finishing line, installed at the end of 2020
The advanced technologies significantly increased coating capacity, while maintaining quality at the highest levels. In turn, production speed and the number of new products coming off the conveyor belt improved.
Graco paint shop solutions mix and spray the primary and top coatings that protect RASCO machinery.
"We chose to work with Graco because of the renowned quality and durability of their products," said Silvio Rogoz, paint shop manager. "In addition, we receive excellent support from Graco's local distributor and service partner."
Process Efficiency in Paint Mix Rooms
In factory paint mix rooms, Graco plural component proportioners keep coatings on-ratio for superior finish quality.

ProMix 2KS mixes primers. Simple programming enables efficient process control. An advanced web interface consolidates system management and reporting. 
ProMix 2KE mixes top coats and stays on-ratio within 2 percent due to predefined tolerance limits. An intuitive, icon-driven LCD display and accessible components make operation and maintenance quick and easy.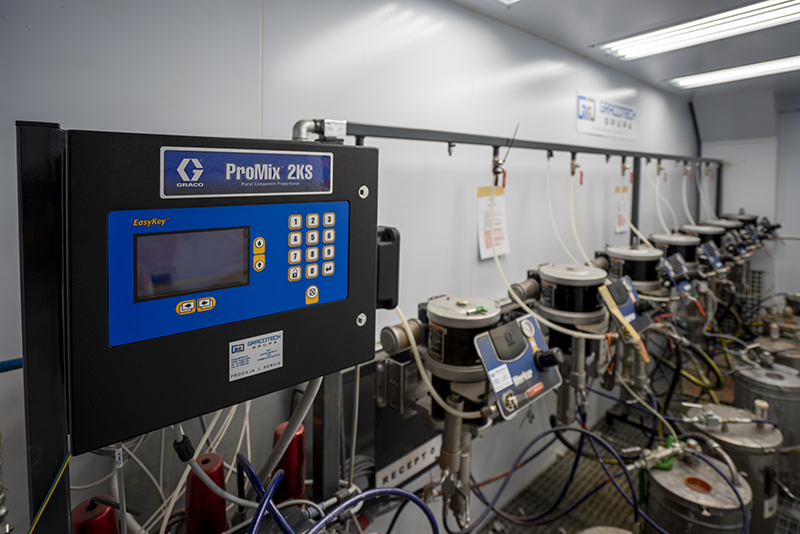 Top Quality in Paint Spray Booths
Painting takes place in two well-equipped spray booths: one for the prime coats and the other for the top coats.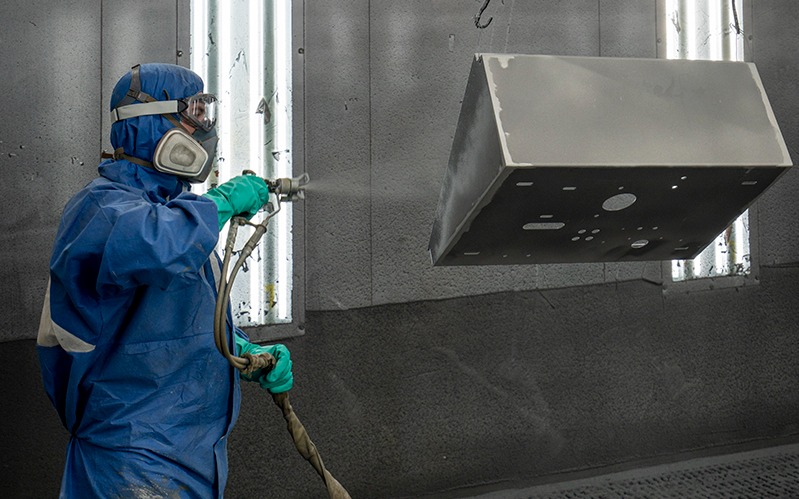 Key products in the RASCO paint booths are:
Merkur paint supply piston pumps which have low air consumption for increased efficiency, external valve access for easy servicing, and online replacement to minimize downtime
PerformAA air assist spray guns, which are known for exceptional spray quality and ease of use that helps improve transfer efficiency, reducing material usage
"The success story of RASCO is also the success of Graco," said Tomislav Paviša, RASCO's head of marketing. "We've worked together for over 20 years, and Graco has helped us meet our quality goals, as well as our sustainability and reliability criteria."
Behind the Name
Based in Kalinovac, near Đurđevac in Croatia, RASCO is a leading manufacturer of machines for the maintenance of traffic infrastructure. Employing 480 people, the company sells products in over 40 countries on five continents.
Servicing Agricultural and Road Maintenance Equipment
RASCO was founded in 1990 by two friends who still own the company. They started by servicing agricultural machinery for local farmers before expanding to service local road maintenance equipment.
Four years later, they went into manufacturing and launched their own road maintenance machine. The following year, they established their first production hall.
RASCO machines began to sell well throughout Croatia and then in southeast Europe, before becoming well accepted across the European Union (EU). In 2017, RASCO started exporting to Canada. 
Maintaining Traffic Infrastructure in Any Weather
In winter and summer, RASCO machines maintain all kinds of traffic infrastructure from: 

motorways to airports
parking areas to pedestrian walkways and bicycle tracks
unclassified forest paths to river banks and canals
RASCO road sweepers, snow ploughs, snow brushes, salt spreaders and crane mowers are known for their robustness and durability. Since many operate within the Arctic Circle, an optimal finish that resists extreme weather is essential.
Contact an Expert
If you are interested in learning more about Graco's extensive range of products for paint shops, fill out the contact form below.
Have Questions? Let's Talk.
Call Support
Monday–Friday
7 a.m.–4 p.m. Central Time
Email Support
Contact an Expert
We'll help you choose the right product for your use.